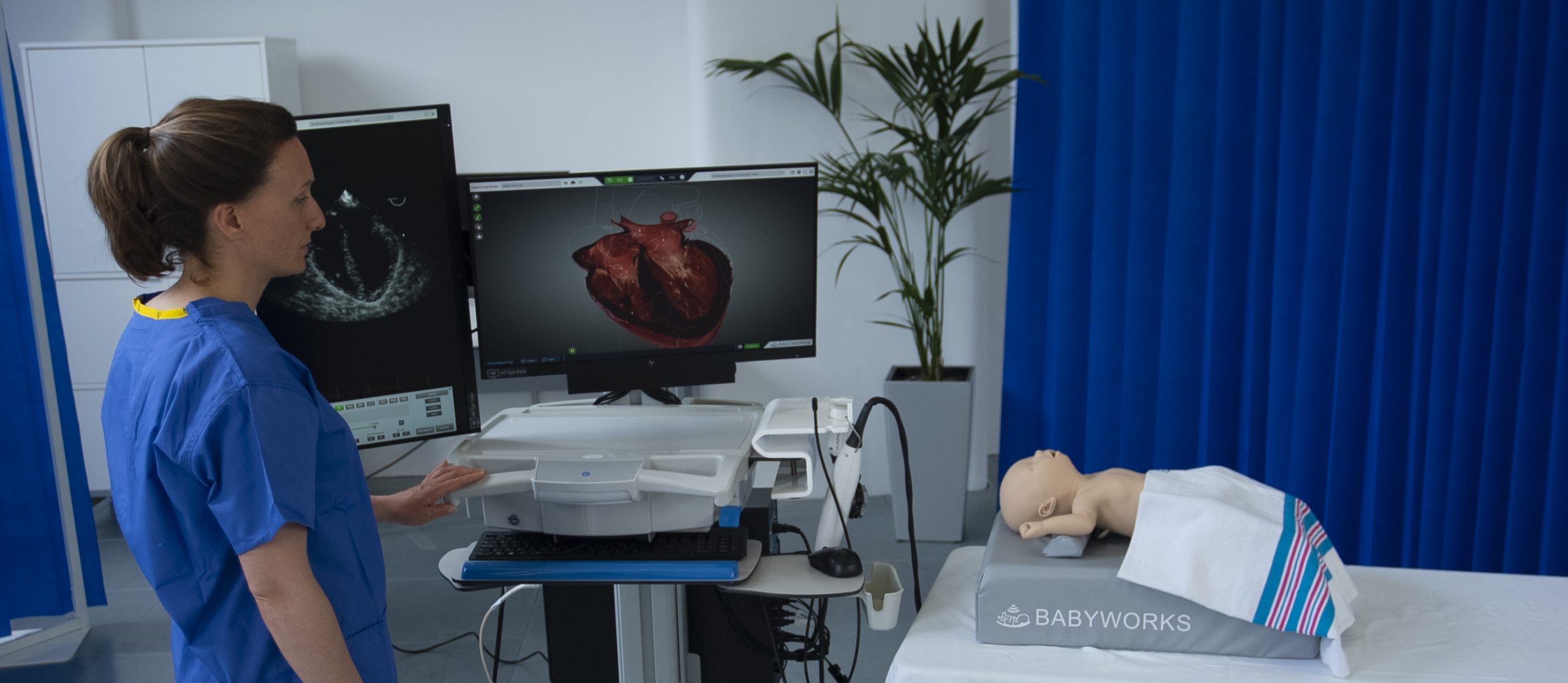 Intelligent Ultrasound Adds Cardiac Pathologies to BabyWorks as Momentum for the Platform Grows
28th November 2022, Cardiff, UK: Intelligent Ultrasound (IU) today announced that it has added more functionality to BabyWorks. The addition of three new cardiac pathologies is expected to drive even more demand for the platform, as momentum for the neonatal (NICU) and pediatric (PICU) simulation training tool grows.
BabyWorks, also known as 'Sam', is an ultra-realistic baby manikin offering a safe and effective training tool for NICU and PICU ultrasound.
Born out of IU's two high-fidelity simulators, BodyWorks and HeartWorks and developed in collaboration with leading specialists from around the world, IU developed BabyWorks to address the training gap and meet the growing need for bedside ultrasound use in NICU and PICU.
Launched in 2021, BabyWorks is already driving the adoption of ultrasound diagnosis on neonates at the bedside. Institutions across the world, including the University of California, Davis, the University of Nebraska Medical Center and Policlinico San Donato have invested in the platform to develop training programs that will increase learning opportunities for trainees and in turn confidence and competence.
An already PoCUS rich platform with real patient cases and over 10,000 pathology variations, the latest additions to the platform, three new cardiac pathologies, will facilitate echocardiography training needs in NICU and PICU settings.
Functional echocardiography has become an invaluable tool in intensive care units. 'Point-of-care', 'target' or 'focus' echocardiography allows bedside cardiac ultrasound evaluation of the hemodynamic status of the patient, helping to direct treatment. The primary barrier to universal adoption of this type of evaluation has to date been lack of an affordable, robust training solution1.
The addition of a 'first suite' of cardiac pathologies to the BabyWorks simulator will support clinicians in the identification of conditions and pathologies that are important in the neonatal setting. Suite 1 includes Hypovolemia, a clinical state that is important to recognize in infants, Sinus Venosus Atrial Sepal Defect with Partial Anomalous Pulmonary Venous Connection (SVASD and PAPVD) and Coarctation of the Aorta.
Product Manager at IU, Talia Stokes, commented "Ultrasound is an accessible and cost-effective tool supporting diagnosis and treatment of neonates with congenital heart defects – especially when compared to alternative diagnostic tools. Being able to identify and recognize these conditions and pathologies in a clinical setting will support decision making and ultimately improve patient care."
The launch of the first suite of pathologies will aid trainees in the diagnosis and understanding of three cardiac pathologies that are important in the NICU and PICU setting – and this is just the start. Further suites of pathologies continue to be developed by IU and will be launched throughout 2023.
For more information on BabyWorks or to request a demonstration, click here.
References: