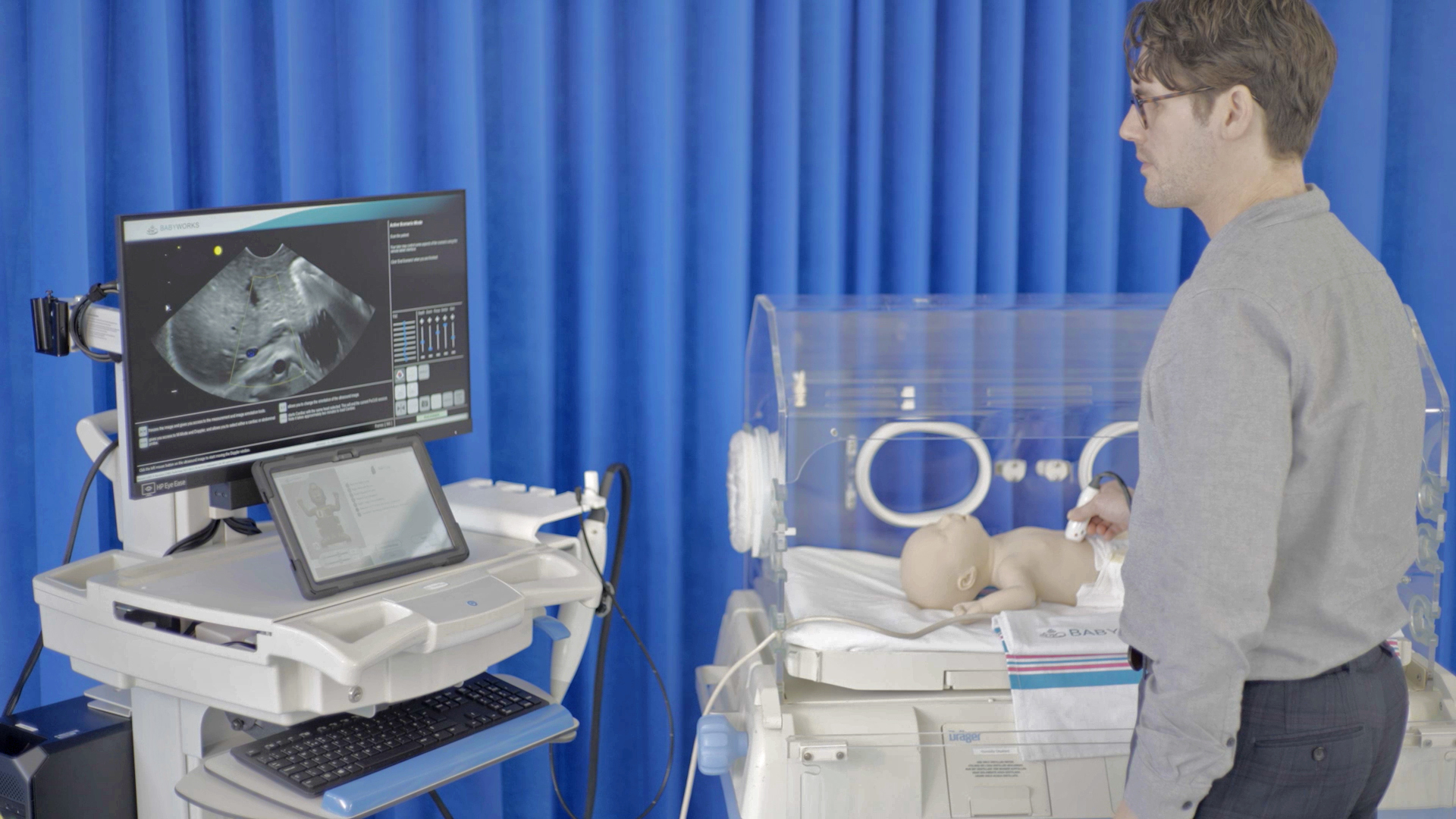 University of California Davis Selects BabyWorks to Develop Pediatric PoCUS Training Curriculum
The University of California, Davis (UC Davis) has selected Intelligent Ultrasound's BabyWorks to deliver a new pediatric Point of Care Ultrasound (PoCUS) training curriculum, driving greater learning opportunities for its trainees, with the objective of saving more lives at the bedside.
Committed to creating a healthy future for all children through outstanding patient care, ground-breaking research and innovative medical education, UC Davis is a pediatric hospital within an adult hospital. Not a 'free-standing' children's hospital, the pediatric department works closely with and has access to adult providers in the emergency room.
From a pediatric perspective, the hospital does not currently have a dedicated ultrasound teaching program in place. To date, training involves remote courses or adult manikin courses. They have recently initiated a pediatric and neonatal training program that involves live scanning pediatric and infant patients with their parent's permission during their admission.  
When COVID-19 was declared a pandemic in 2020, this had a significant impact on both the hospital's workforce and its medical residency education. Training programs were limited due to staff priorities and the limited numbers of parents at the bedside. The usual training approach wasn't feasible, and the team had to explore other avenues to continue their hands on pediatric medical education for faculty, fellows and residents.
Outside of the pandemic, there was already scope for improvement in delivering pediatric ultrasound education. The team did not have access to high acuity, low occurrence type of events and practicing on real-life patients also had its limitations, based on the pathologies the patients presented with.
Dr Viyeka Sethi, MD, Associate Professor, Pediatrics at UC Davis commented "You can only see what the patient has. Patient vital signs cannot be manipulated to teach and raise awareness of certain conditions. Training opportunities are limited by the pathologies the patient came in with. Likewise, if an acute decompensation happens in the middle of the night, where a patient develops a pneumothorax, or someone comes in with a pericardial effusion, a trainee won't be the first person to diagnose or provide procedural support – this also limits exposure for trainees."
With colleagues from the neonatal ICU and the emergency room, Dr Sethi and the team came together to collaborate on an alternate way to teach pediatric PoCUS to the faculty and its fellows.
Dr Sethi explained "As a Group, we needed a solution that would allow us to design a curriculum around low occurrence events, which are high acuity and can save a life at the bedside, that you may not be exposed to in the entirety of your 3 or 4 years of fellowship or residency training."
In relation to choosing BabyWorks, Dr Sethi commented "There are a limited amount of pediatric simulation platforms in the marketplace. BabyWorks has an extensive library of patient pathologies, and more are being worked on. The platform will allow us to provide trainees repeated exposure to rare pathologies and allow them to graduate with some hands on training."
Dr Sethi continued "There will be real value in the congenital heart library – you don't get to see or scan congenital heart disease patients on a normal basis. Trainees will get to scan and see an example of someone with a transposition of the great artery, which is not usual at a small community hospital."
At the early stages of developing the new curriculum, after initial use of the platform, the UC Davis team will develop a set curriculum that will run throughout the year using BabyWorks to provide training in the PICU, NICU and the ER. Not only for PoCUS, which more pediatric programs are incorporating into their curriculum, but also to expose trainees to high acuity low occurrence 'halo events', to provide some degree of competence when they get to the bedside in an as 'true to life' situation as possible.
The collaboration between the pediatric, neonatal and emergency room teams is quiet novel at UC Davis. It is hoped that BabyWorks will allow the teams to leverage the experience of the ER, who are experienced with PoCUS and quick diagnosis, but less exposed to pediatric patients, with that of its colleagues in PICU and NICU, who are focussed on infant care, but use PoCUS at the bedside less.
Dr Sethi concluded "BabyWorks will be used to train around fifty PICU, NICU and ER residents every year, with the option to extend this to our twenty plus faculty fellows. BabyWorks will allow us to effectively use PoCUS at the bedside to answer small questions that can impact the care you give, send you down a different path for that patient, or confirm and make you comfortable in the diagnosis you have already established."
For more information on BabyWorks, click here.