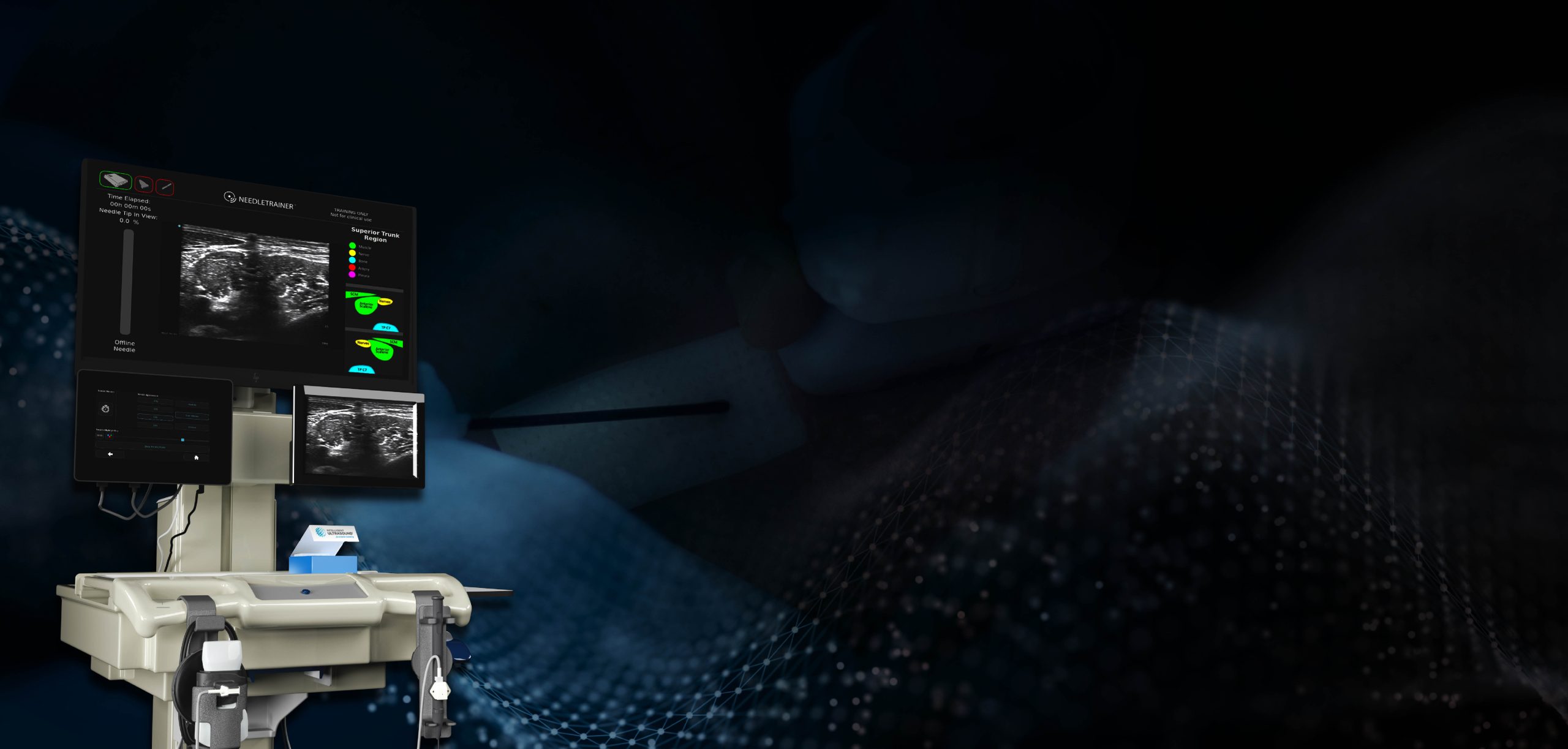 Intelligent Ultrasound Launches NeedleTrainer 2 Making Needle Skill Training Even More Accessible to Medical Professionals
2nd September 2022, Cardiff, UK: Intelligent Ultrasound (IU) today announced that it has launched an updated version of its 'first in kind' technology NeedleTrainer™, making ultrasound-guided needle training even more accessible to medical professionals, through a high performance, pocket-sized wireless ultrasound machine – GE Healthcare's Vscan™ Air.
NeedleTrainer is a real-time simulation tool, which has been designed to develop the needle-probe co-ordination skills required for safe ultrasound guided interventional procedures.
The first of its kind, NeedleTrainer uses a retractable needle, with the ability to add virtual image overlays to simulate needling non-invasively on a live participant, using a live ultrasound scan. This enables trainees to develop hand-eye coordination, optimum positioning, and accuracy in ultrasound-guided interventional procedures in a simulated clinical environment without delaying patient care or risking patient safety.
10 months since the original version launched in the marketplace, and the platform is already being embraced by regional anesthesia medical education schools including Health Education and Improvement Wales and University College London Hospital to expand training opportunities and drive curriculum changes.
In line with IU's vision to 'unlock ultrasound for everyone', the latest version of NeedleTrainer makes ultrasound-guided needling even more accessible to medical professionals. Previously only available to users with an existing compatible ultrasound system, IU has now expanded this offering. The latest generation of NeedleTrainer incorporates a GE Vscan Air; a wireless, handheld ultrasound probe that makes the system portable, removes the need to re-purpose a console-based ultrasound machine for training, while making the platform available to more institutions.
NeedleTrainer is available in two offerings: as a needle training simulator, applicable to any speciality that performs ultrasound guided needling. For regional anaesthesia there is also NeedleTrainer Plus, which includes the needle training simulator, with a built in PNB trainer. This includes the AI powered overlay option for the 10 most common (Plan A) blocks when training on regional anesthesia.
NeedleTrainer is a powerful classroom tool on its own, but when combined with ScanNav Anatomy PNB, the competency is enhanced. Once a practitioner is competent, they can use the standalone ScanNav Anatomy PNB device in the clinic for real-time AI assistance of ultrasound-guided regional anesthesia.
While the first version of NeedleTrainer has attracted early adopters in the field of regional anesthesia, the opportunity for the platform across other applications is vast. Indeed, NeedleTrainer is already being evaluated to help trainee radiologists develop hand-eye coordination for needle insertion.
Dr Dennis Cochlin, MB BCh FRCR, Consultant in General Ultrasound at the University Hospital of Wales, Cardiff commented "This is a great example of how invasive procedures can be taught in a safe environment. This is particularly important for the increasing number of practitioners who use ultrasound to guide procedures, but where ultrasound is not their main specialty. However, anyone who practices ultrasound guided needling, however experienced, will welcome this."
On the latest version of NeedleTrainer, IU's Chief Technology Officer, Nicholas Sleep commented "Still a 'first in kind' platform, NeedleTrainer 2 is the latest development in IU's vision to make ultrasound simpler to use and easier to learn. We're pleased to extend our partnership with GE Healthcare by incorporating the Vscan Air into our system, which makes this technology portable and available to any medical education program which teaches ultrasound-guided needling. Centres will be able to adapt to new curriculum requirements, without impacting clinical hours or patient safety."
GE Healthcare has a century long track record of delivering high impact healthcare innovations, with more than 30 years in ultrasound. GE was the first to introduce a pocket-sized color ultrasound to the market; the over 30,000 Vscan units in the pockets of clinicians in 100 countries impacts the care of 50 million patients worldwide.
To learn more about NeedleTrainer, readers should click here. To arrange a demonstration, contact us.