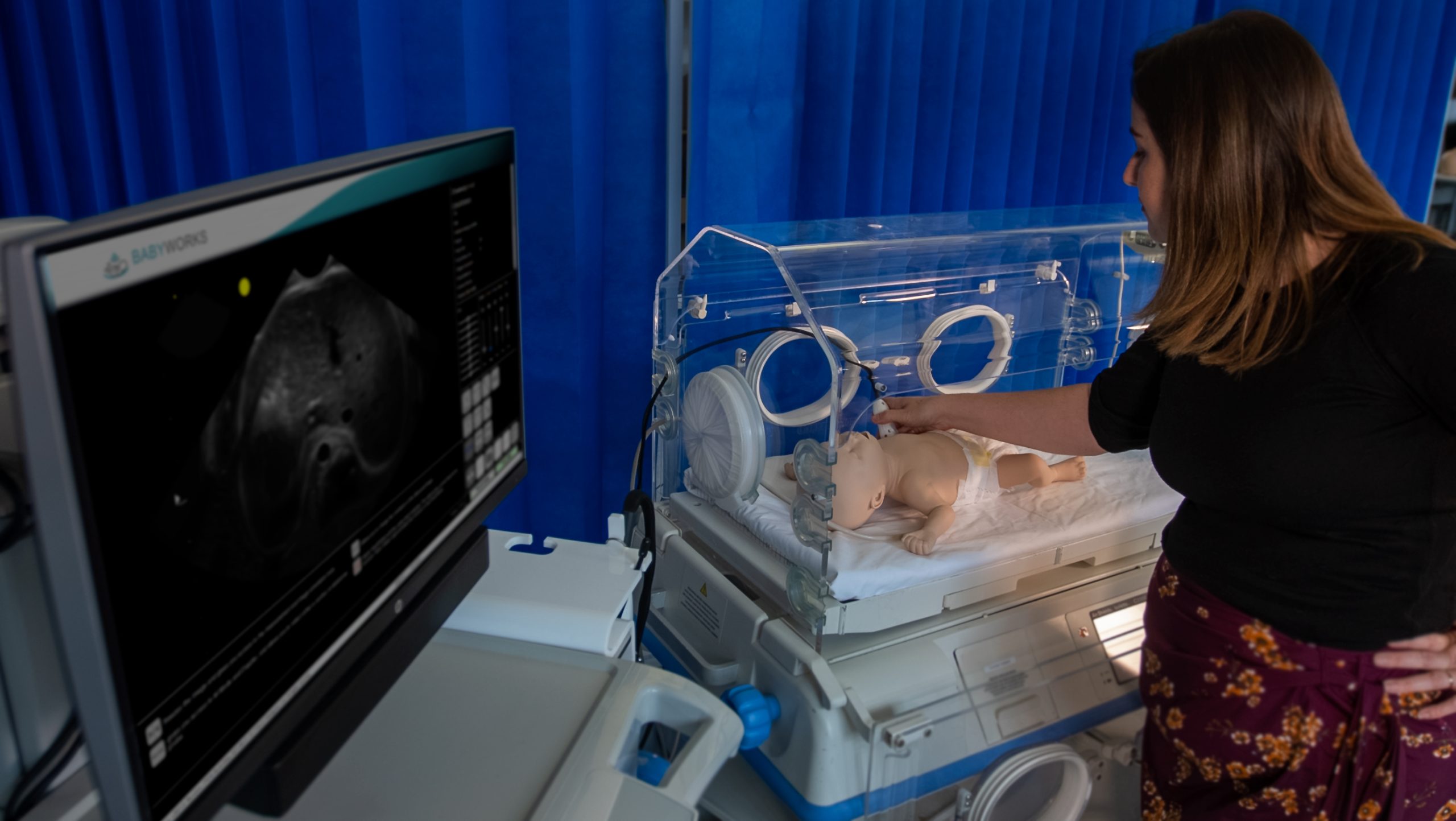 Developing Baby – A Q&A with Product Manager Talia Stokes
Last year we launched BabyWorks Sam, our ultra-realistic baby manikin training tool for Point of Care Ultrasound (PoCUS) in pediatric and neonatal care.
In this blog, Product Manager Talia Stokes answers your Frequently Asked Questions (FAQ) on one of the latest additions to the Intelligent Ultrasound family:
What is BabyWorks?
BabyWorks Sam is a high-fidelity baby manikin which allows trainees to learn how to acquire images in a safe, calm environment using key palpable landmarks to find the correct imaging windows and overcome everyday challenges, just like in real life. The mini-multi probe allows scanning in both abdominal curvilinear and transthoracic cardiac modes interchangeably in addition to the mini-transoesophageal probe which is available for more advanced echocardiography training.
Why did IU Develop BabyWorks?
BabyWorks was developed in collaboration with leading neonatal and pediatric specialists from around the world, including those at Great Ormond Street Hospital in London.  It was designed to meet the growing adoption of bedside ultrasound use in NICU and PICU, to help with the standardization of training and guidelines (these are now in place in the UK in the form of the CACTUS guidelines) and to help increase confidence and competence in ultrasound use, aiding diagnosis and decision making.
BabyWorks was born out of two world-leading high-fidelity simulators, BodyWorks and HeartWorks.
BodyWorks uses cutting-edge technology to effectively teach POCUS skills, while HeartWorks has all the advanced functionality needed to teach echocardiography. BabyWorks brings these two platforms together to revolutionize teaching neonatal and pediatric POCUS and echocardiography.
How does BabyWorks support NICU and PICU departments?
In some larger neonatal and pediatric intensive care units, practitioners are performing bedside ultrasound for functional cardiac evaluation (including serial evaluation which is important in monitoring newborns due to their changing physiology) and to examine the lungs for the detection of common respiratory conditions. But there is an increasing acceptance of the value bedside ultrasound can bring to other areas. Key among these areas, and already gaining recognition, are diagnosing brain bleeds and other cranial issues, central catheter placements, endotracheal tube placement, bowel assessment, bladder evaluation and the lumbar puncture procedure.
BabyWorks supports this movement using ultrasound built from real patient cases, covering the brain, heart, lungs, abdomen, and bladder to teach POCUS. While advanced cardiac skills are taught using exceptional 3D anatomy and sophisticated Doppler (including CW and PW), with both transthoracic and transoesophageal modalities.
What's next for BabyWorks?
The first version of BabyWorks was launched in 2021. Several institutions have already invested in BabyWorks Sam and others are currently evaluating the platform to fully understand the functionality and benefits it can bring to practitioners and in turn patients and their families.
BabyWorks already offers more than 40 pathologies available in 9 different areas, which can be used in any combination, creating over 5,000 pathology variations. Trainees can run interactive scenarios using the handheld tablet to instantly change the patient's condition (pathology, severity of the pathology, heart rate, or respiratory rate), can scan the head and brain in real time, anywhere between the clavicle and pelvis, and create their own custom patients from any of the cases, setting the heart rate, respiratory rate and creating tailored clinical information.
Later this year we will be releasing the three new cardiac pathologies; Global LV dysfunction, Perimembranous VSD and PPHN (persistent pulmonary hypertension of the newborn).  Further pathologies will be added to the BabyWorks platform as we receive feedback from our developing customer base to ensure that Sam is meeting the needs of our NICU and PICU users.
For more information on BabyWorks Sam, click here.