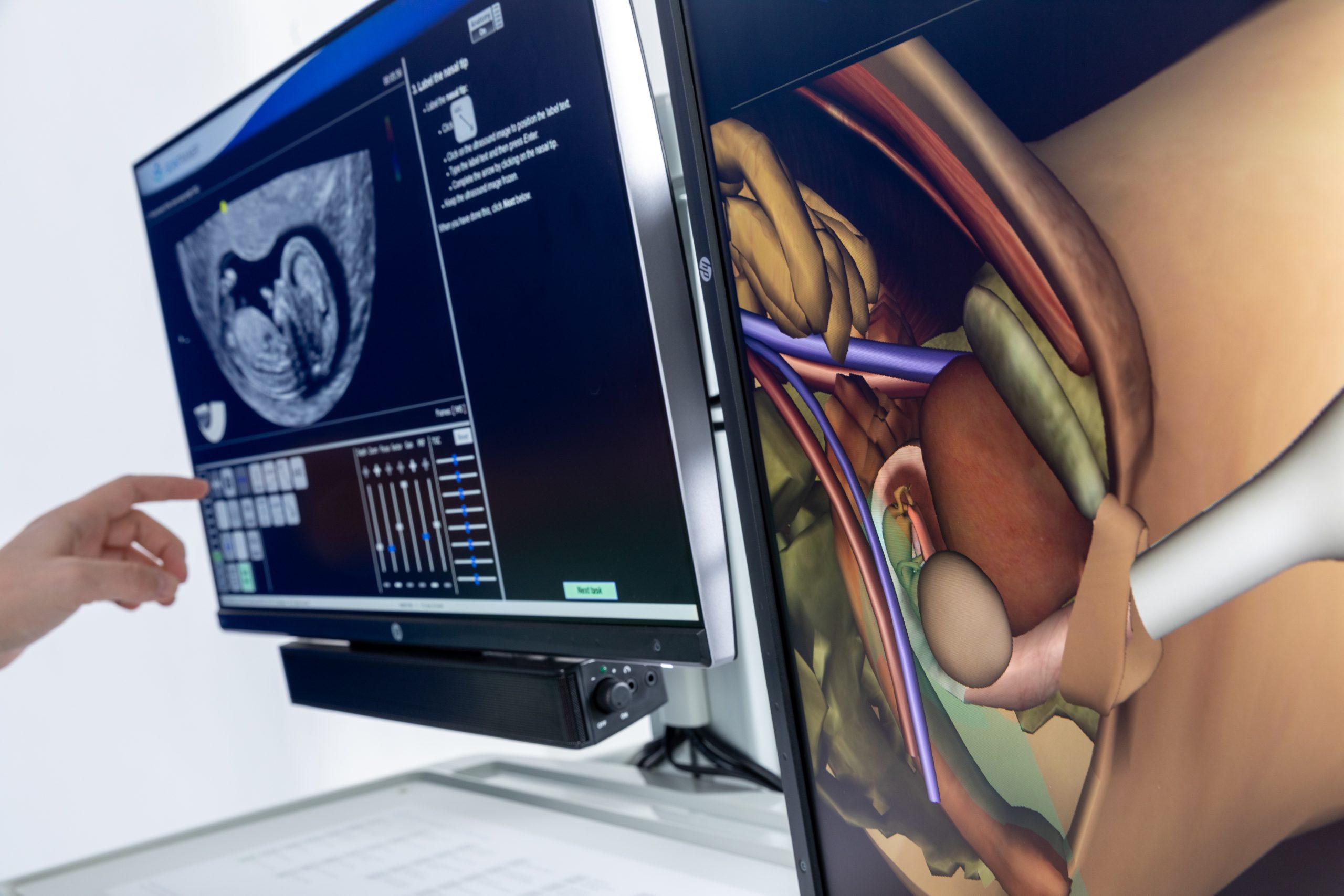 Simulation in Transvaginal (TV) and Transabdominal (TA) Ultrasound
More than just a simulator, ScanTrainer provides a comprehensive learning curriculum in ultrasound across obstetrics, gynecology, general and emergency medicine; providing guided learning, assessment of key performance indicators, and real patient scans concurrent with all planes probe movement.
Educational program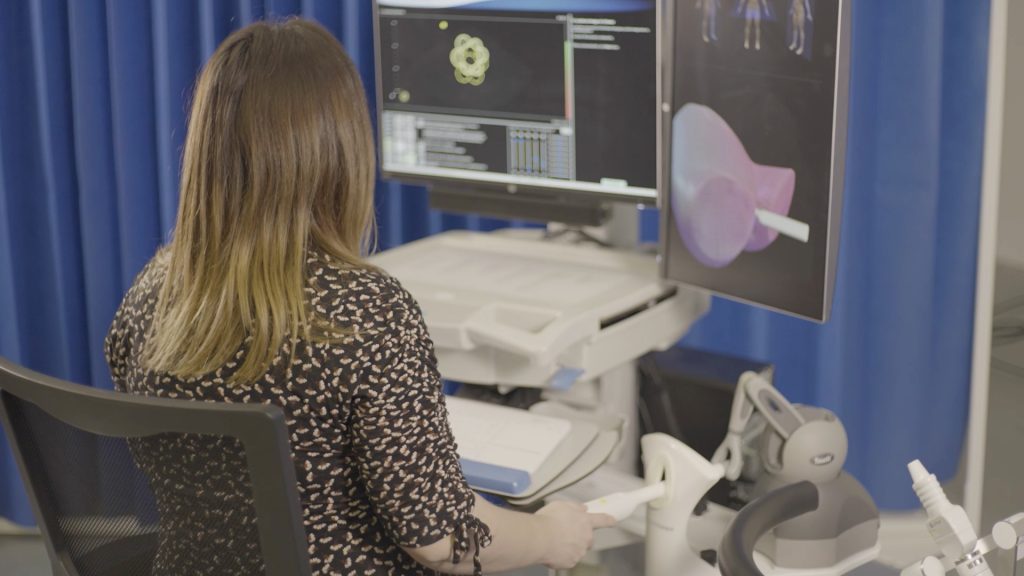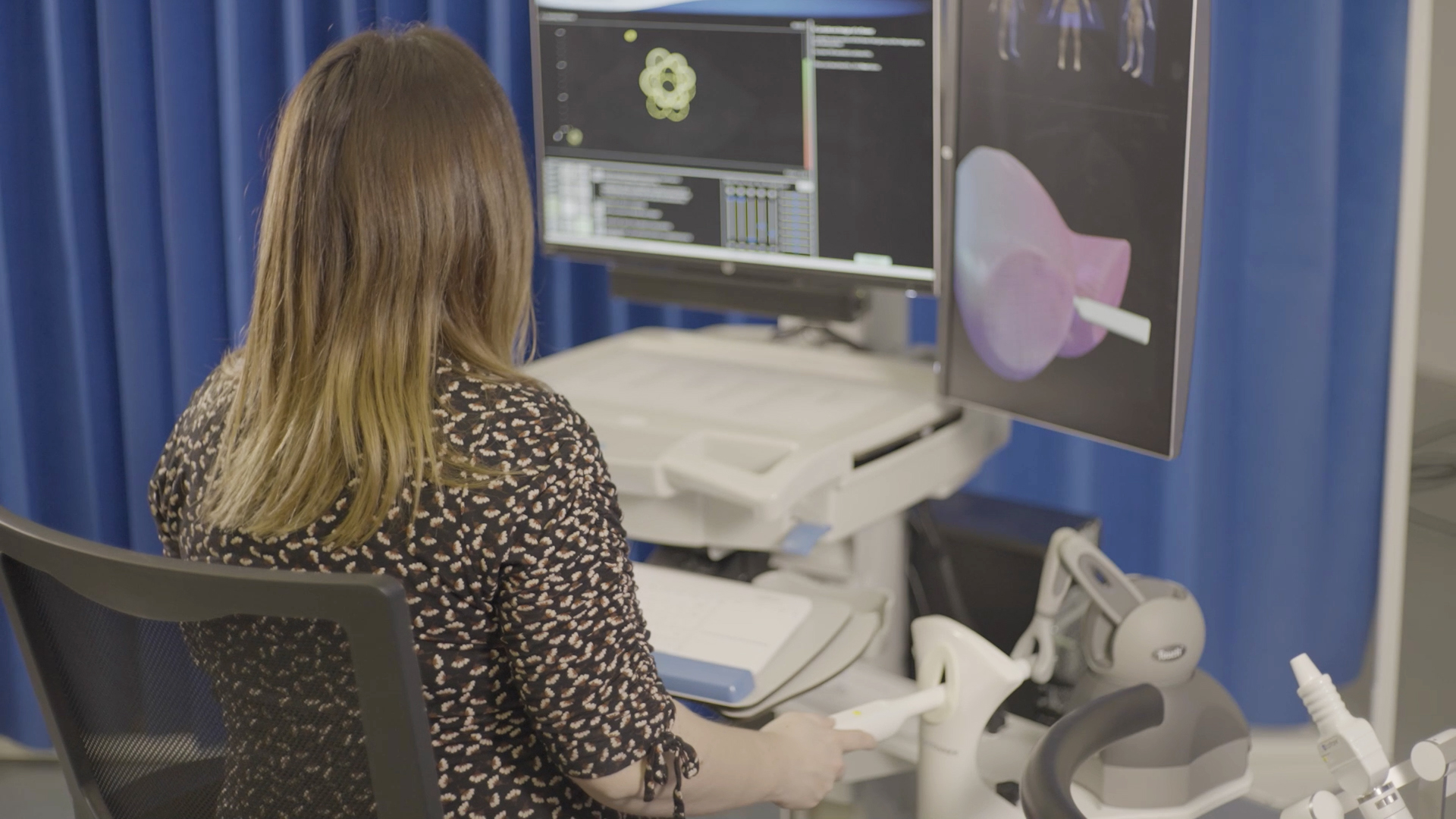 A fully comprehensive educational experience
The ScanTrainer curriculum-based learning program helps students develop hand-eye coordination, pattern recognition, 3D-2D spatial awareness, sono-anatomy and pathology recognition; skills are taught and assessed at all levels, making it perfect for someone picking up the probe for the very first time, to an expert learning advanced sonography skills, and everyone in between.
Outcomes-based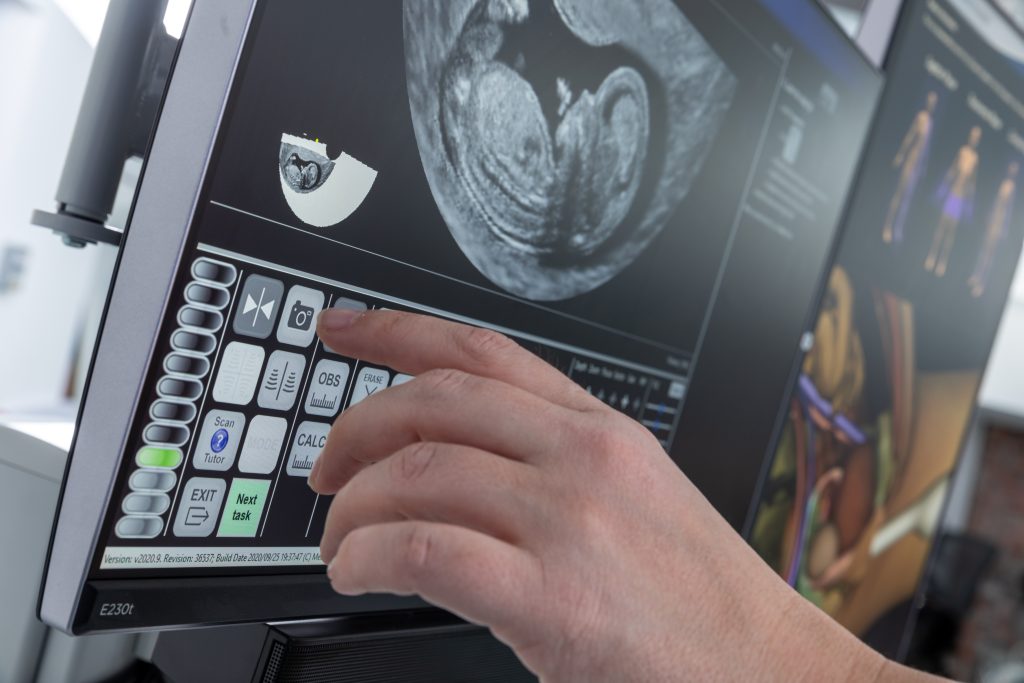 Empower your team to save babies' lives
Effective fetal monitoring during pregnancy can reduce preterm birth and help to prevent stillbirths by spotting issues such as Fetal Growth Restriction. The ScanTrainer learning program teaches the skills to effectively perform ultrasound and recognize pathology. In addition, the ScanTrainer Advanced Obstetrics Modules* includes the only Spectral Doppler for obstetrics program on the market, teaching the skills to recognize issues with fetal and placental circulation.
*Optional upgrade package
Self-directed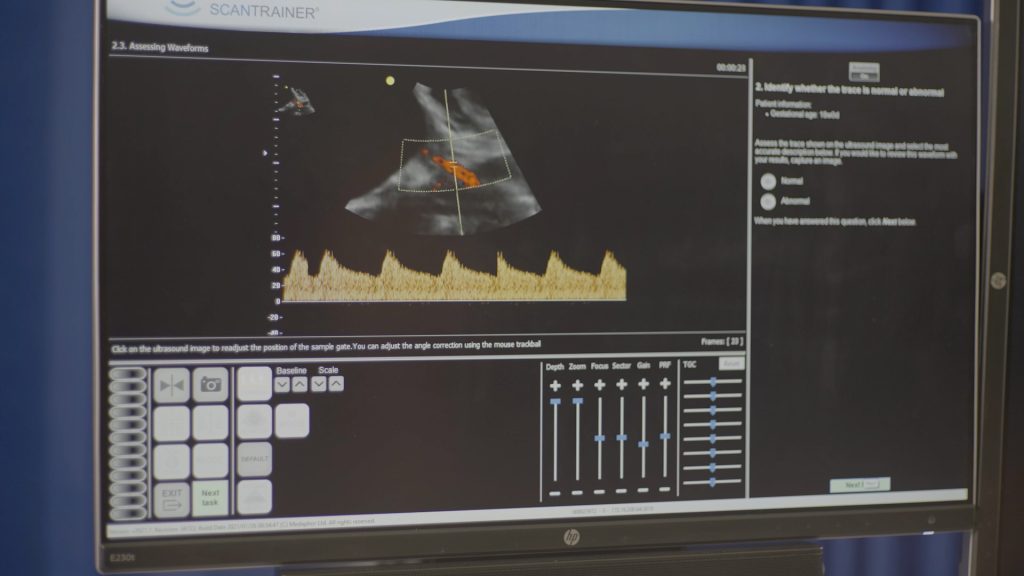 Built-in ScanTutor replicates learning with an expert for self-directed learning
Trainees will be able to acquire hard-to-learn ultrasound scanning skills and complex pathology recognition in their own time and at their own pace. Extensive curriculum-based education modules, and patient cases across multiple healthcare disciplines, allow trainees to progress through the learning pathway independently. Our unique real-time virtual tutor replicates learning one-to-one with an expert, with real-time feedback and skills assessment, allowing for a truly self-directed learning experience.
ScanTrainer Compact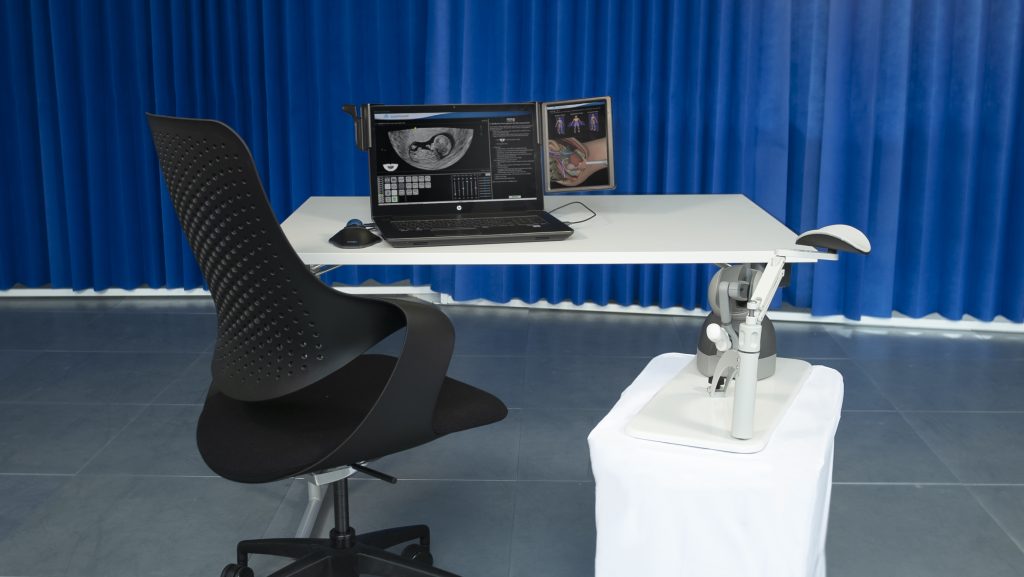 All the power of the ScanTrainer learning program, in a smaller, desktop system.
ScanTrainer compact features a laptop system and a desktop haptic with swappable attachments for Transvaginal and Transabdominal scanning (package dependent), offering ScanTrainer's extensive ultrasound training just in a smaller package!

NEW Endometriosis Module Available
Developed in collaboration with specialist sonographers in the field of gynecology and obstetrics, the module comes with 24 endometriosis cases and a companion e-learning package to support sonographers in their learning and identification of the disease.
Advanced Obstetrics Modules
Complete the learning pathway for obstetric ultrasound from early probe manipulation skills to advanced spectral doppler and fetal lie recognition.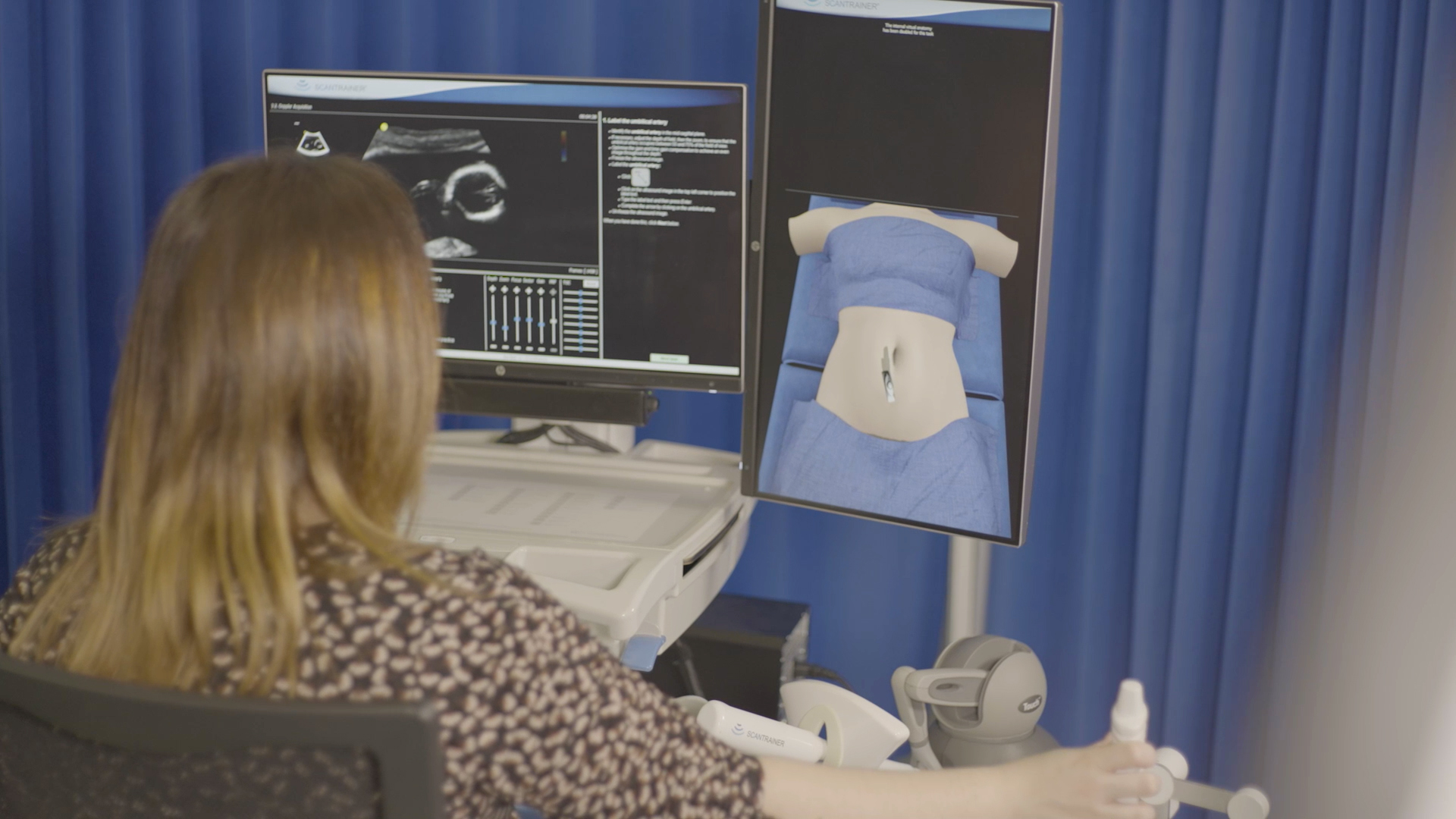 "Since implementing ScanTrainer into our programs, not a single student has failed the transvaginal obstetrics and gynaecology module."
Naomi Brown, Senior Lecturer and Ultrasound Course Lead, University of Hertfordshire, UK
Curriculum-based teaching from basic probe manipulation in both TA and TV modalities, through to complex pathology recognition, Doppler, fetal lie and placenta localisation.
With over 1,000 real patient scans across a number of specialties, ScanTrainer uses haptic feedback and virtual patients to create a realistic scanning experience, without the need for multiple manikins.
ScanTrainer offers a unique self-directed learning experience, with structured curriculum-based teaching of basic to advanced skills using real patient scans, real-time learning guidance from the virtual tutor, and a comprehensive learning management system.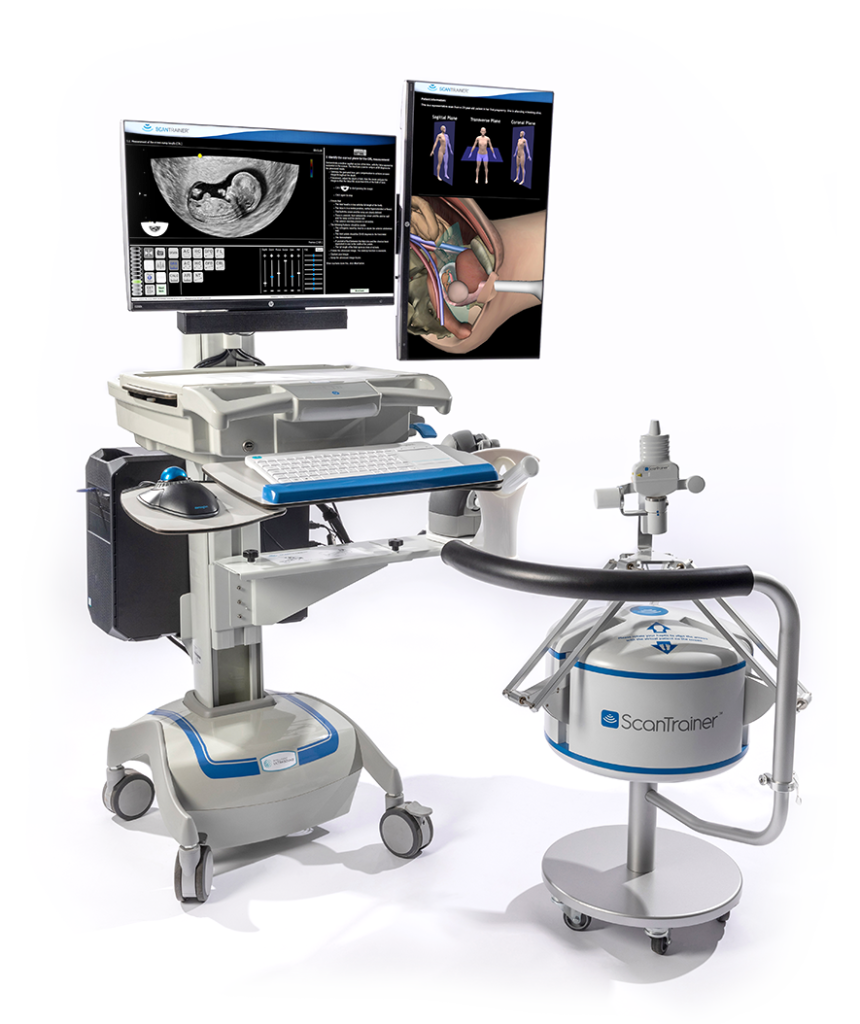 ScanTrainer uses haptic feedback to provide a realistic scanning feel, alongside virtual patients with realistic landmarks to replicate multiple patient shapes, replacing the need for multiple manikins.
ScanTutor is our unique 'virtual' tutor, providing instant feedback to help trainees learn to acquire images, recognize structures, and make measurements correctly; replicating the experience of learning with an expert in the room.
Tutors and administrators have full access to track and manage trainee accounts, and set-up custom learning programmes. Our case generator, available for systems on the cloud, enables tutors to upload their own scans and create their own patient cases, allowing further scanning opportunities for trainees and increased variety of abnormalities and pathology.
---
Related products:
Interactive Point-of-Care Ultrasound (PoCUS) Scenario Training.
Simulation in Cardiac Anatomy, Echocardiography and Lung Ultrasound.
Safe and effective training tool for pediatric and neonatal ultrasound.