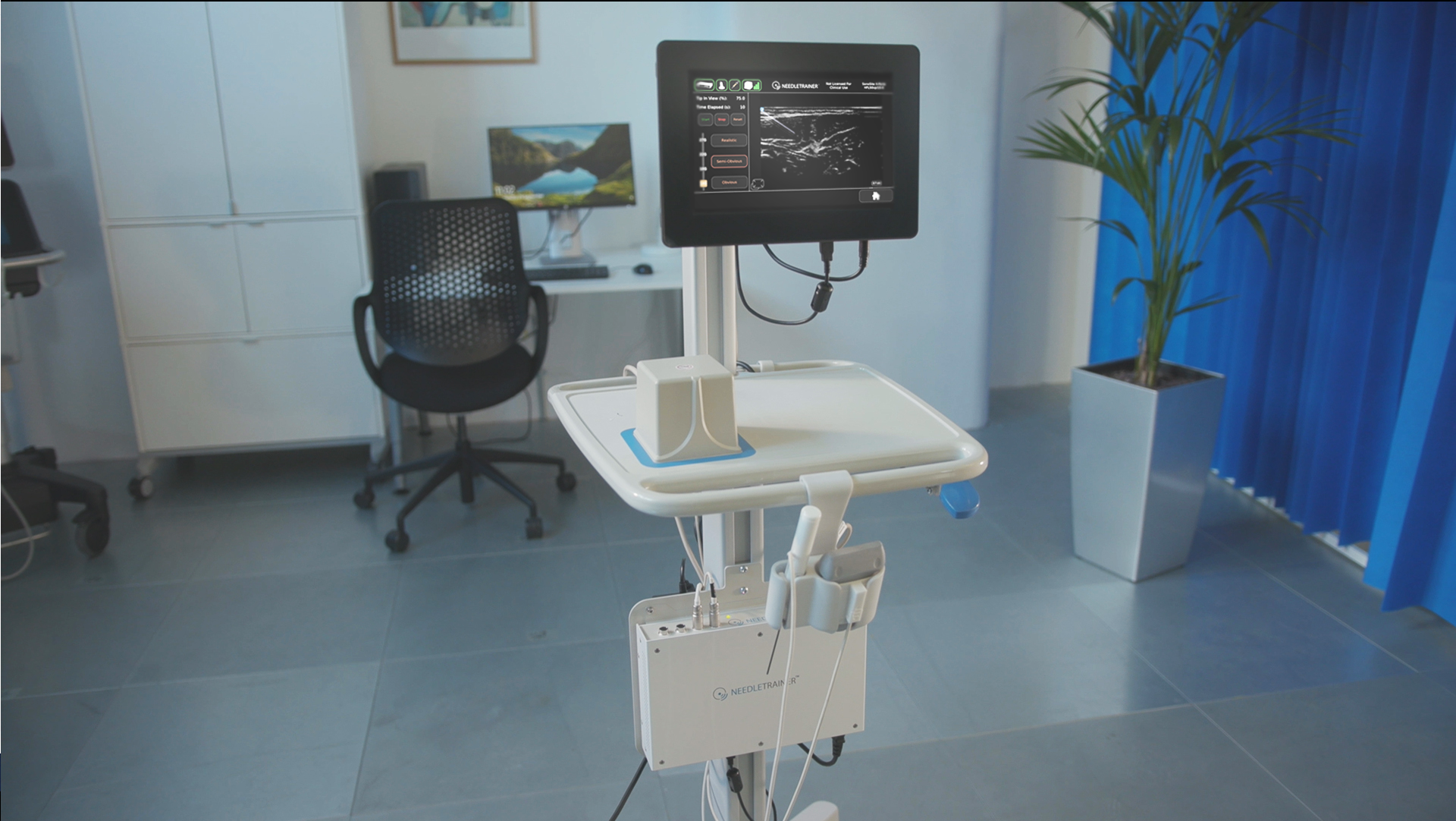 Master ultrasound-guided needling safely and effectively, using non-invasive needle insertion during real-time scanning on a real subject.
---
True-to-Life Needling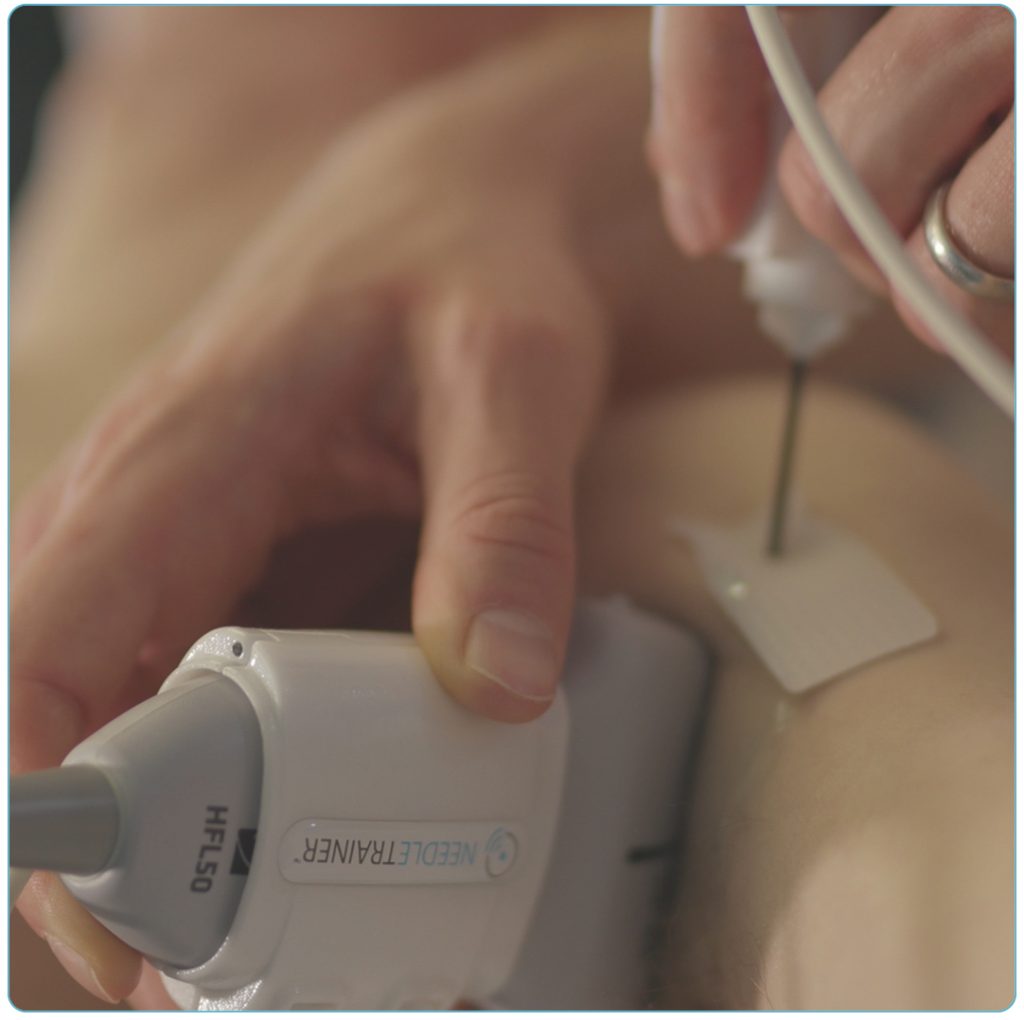 Realistic, safe & supportive training in ultrasound-guided needling
NeedleTrainer uses a retractable needle and virtual image overlays to simulate needling non-invasively on a live participant, using the authentic, live ultrasound scan.
This enables trainees to develop hand-eye coordination, optimum positioning, and accuracy in ultrasound-guided interventional procedures in a safe, realistic, clinical environment.
Practise needle-probe coordination skills, on any body habitus, during real-time scanning on a real subject.
Proficiency Metrics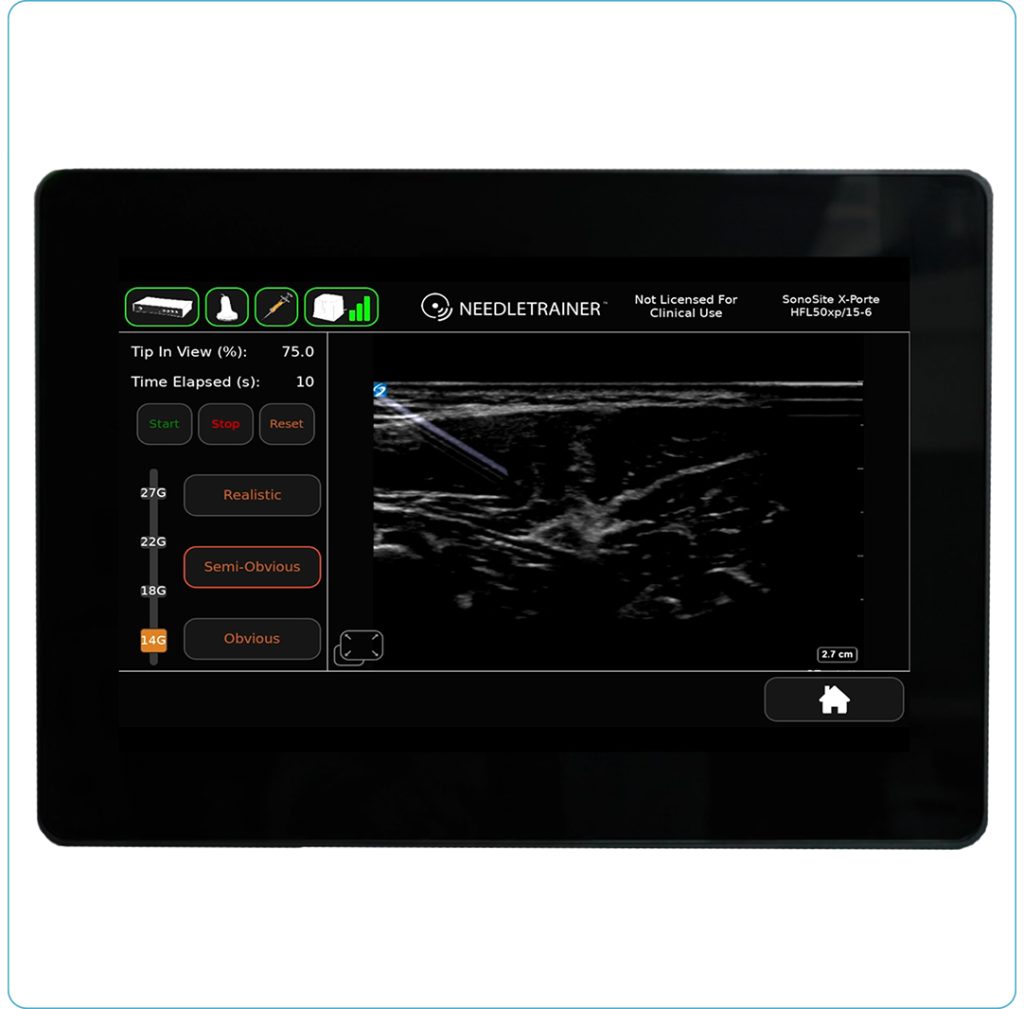 Metrics for proficiency of needle probe co-ordination
Needle visualization measurements provide objective quantitative metrics for needle probe alignment, to aid assessment in proficiency and competence of needle probe coordination.
Needle Customisation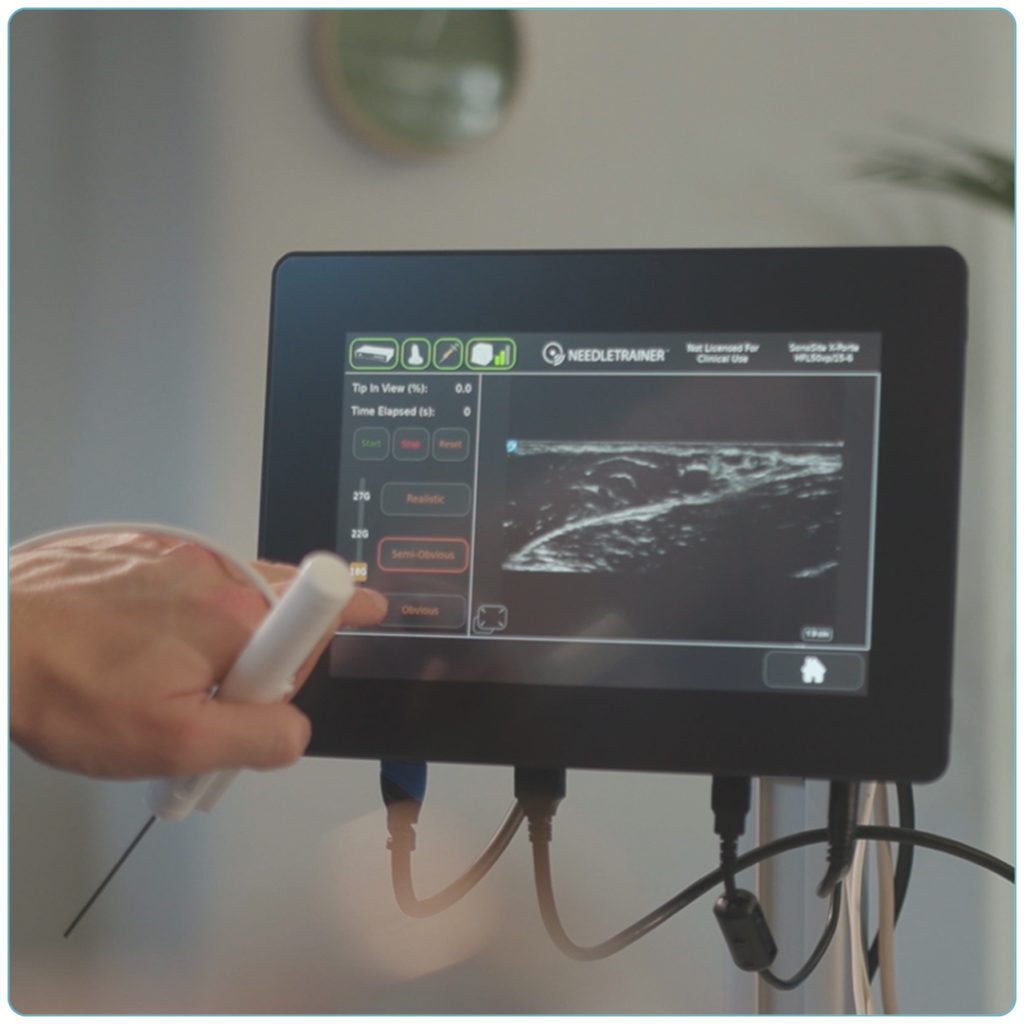 Tailor needle specifications to your procedure
Allows customization of the virtual needle simulation according to the procedure & specialty requirements:
Echogenicity: Obvious, Semi-obvious, Realistic
Gauge: 14G, 18G, 22G and 27G
PNB Anatomy Highlighting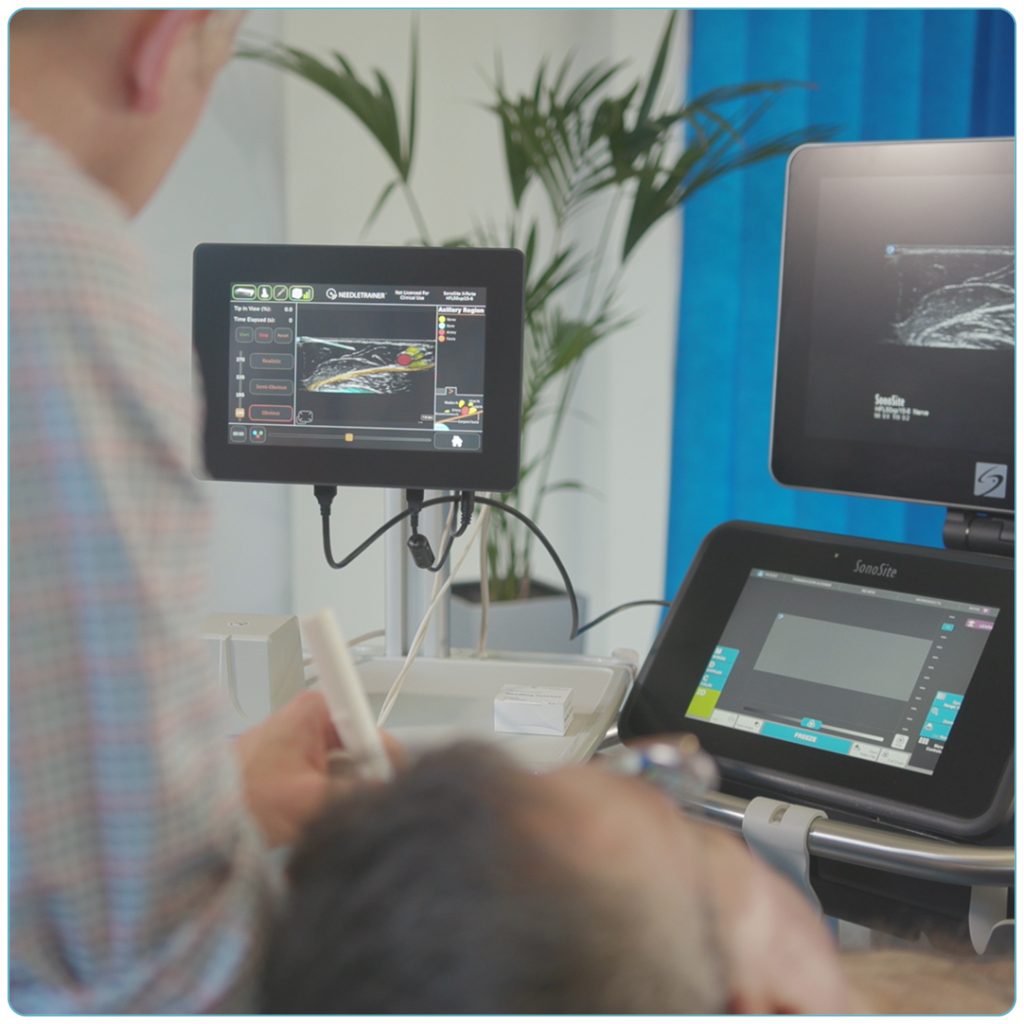 NeedTrainer Peripheral Nerve Block (PNB) package*.
Learn ultrasound image interpretation along with needle-probe coordination with the NeedleTrainer PNB package, supporting 9 high-value ultrasound-guided regional anesthesia procedures.
The PNB procedure mode* provides a colored highlight of key sono-anatomical structures in real-time on the live ultrasound scan, in addition to the simulated needle overlay.
*optional upgrade
---
How It Works
---
Frequently Asked Questions
How do I check NeedleTrainer is compatible with my ultrasound machine?
Currently, NeedleTrainer is compatible with the following ultrasound and probe combinations*:
SonoSite Xporte HFL50xp and L38xp
SonoSite SII HFL50x
Sonosite Edge II HFL50x
*devices with a HDMI, DVI or Display Port output only.
Get in touch to find out compatibility with your machine.
Does NeedleTrainer store or record any data?
NeedleTrainer is a real-time solution that uses the HDMI feed from your ultrasound machine and does not store or record any data or images.
Who will benefit from NeedleTrainer?
NeedleTrainer is designed to assist the learning curve of healthcare professionals interested in performing ultrasound-guided needling procedures.
Does the system need an internet connection to function?
NeedleTrainer is a real-time solution which uses the HDMI feed from your ultrasound machine and does not require an internet connection to function. Its Ethernet port is disabled and the system does not support wireless connectivity.
Can you project NeedleTrainer screen onto a bigger screen for teaching?
Yes, there is a HDMI output on the NeedleTrainer panel PC allowing you to present the NeedleTrainer display on a bigger screen. The HDMI output has a resolution of 1200×800. See the Instructions for Use for more details.
---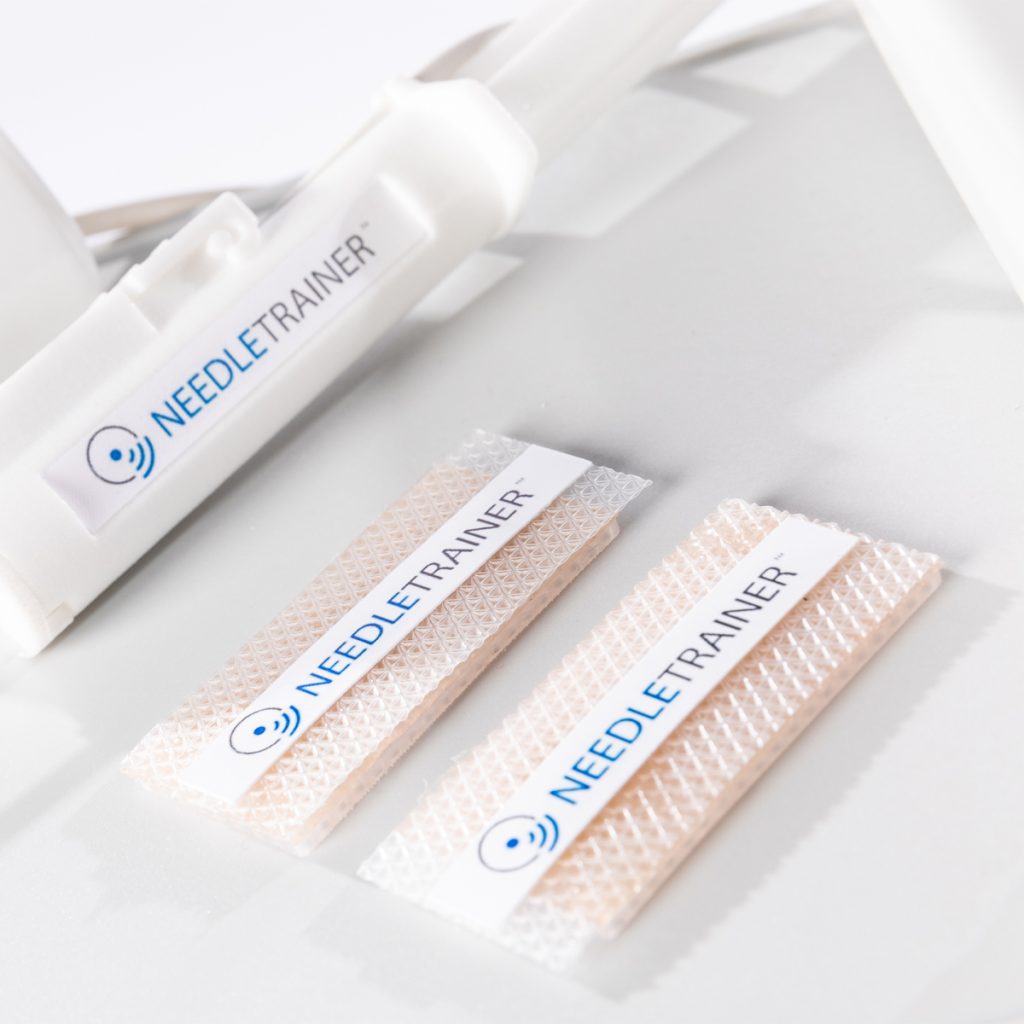 Order replacement needling patches
NeedleTrainer uses self-adhesive patches to enable simulated needle insertion on a live subject. Replacement patches can be ordered online in boxes of 100 or 50.
---
More products: