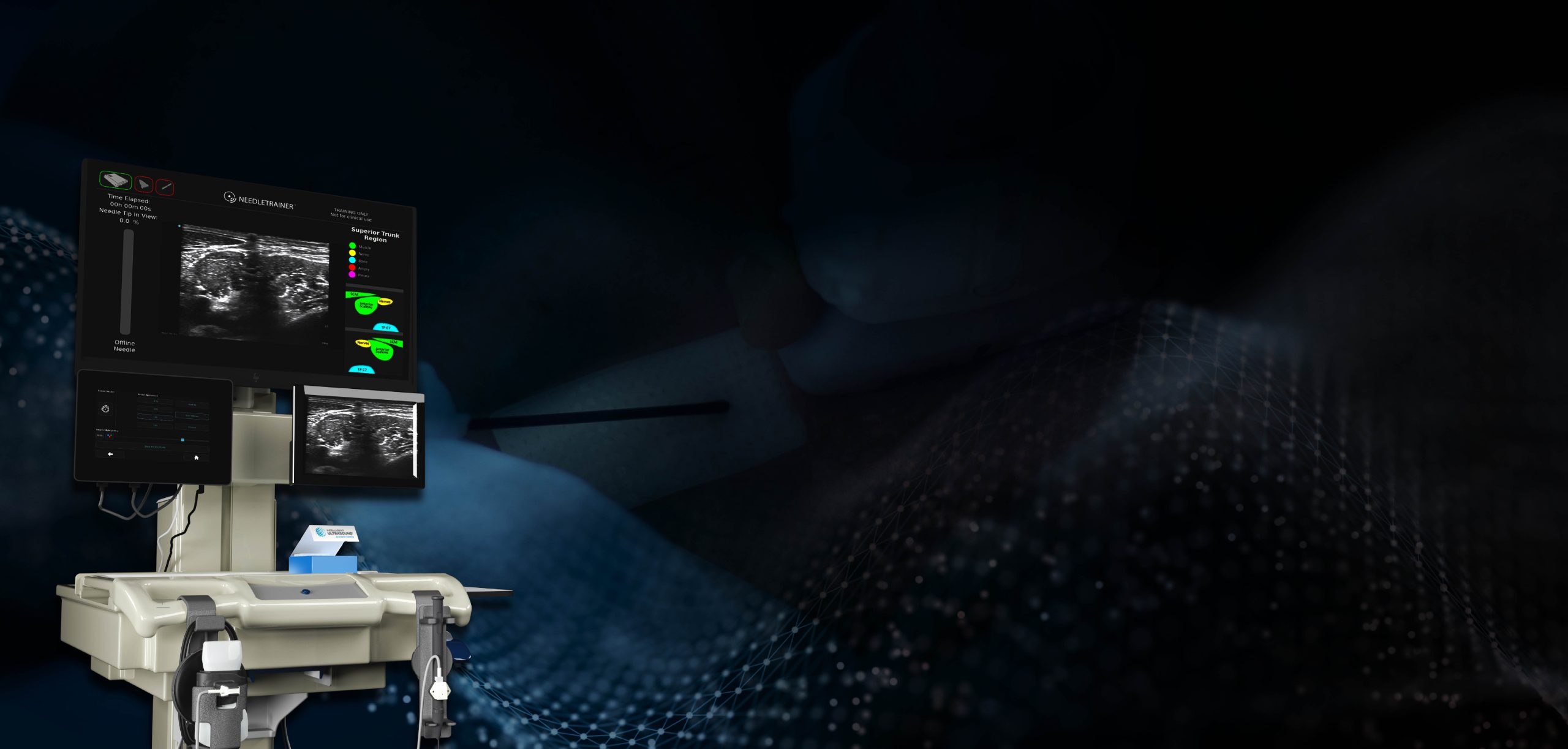 Realistic, safe & effective training in ultrasound-guided needling
NeedleTrainer™ provides an all-in-one training solution to teach ultrasound-guided needling safely and effectively, using non-invasive needle insertion during real-time scanning on a real subject.
---
Complete solution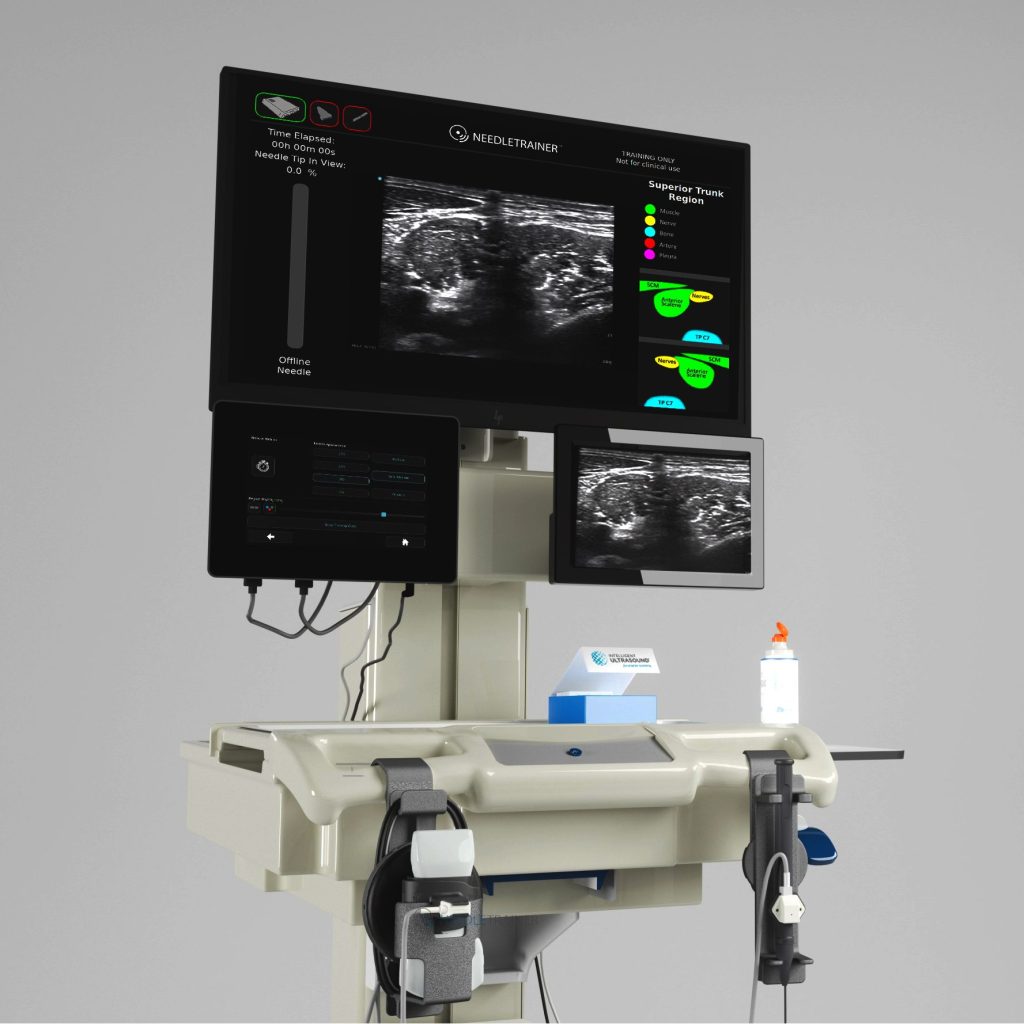 Now available to even more institutions
The first of its kind, NeedleTrainer™ uses a retractable needle and virtual image overlays to simulate needling non-invasively on a live participant, using an authentic live ultrasound scan. This enables trainees to develop hand-eye coordination, optimum positioning, and accuracy in ultrasound-guided interventional procedures in a realistic clinical environment with minimal risk.
NeedleTrainer™ is the latest development in Intelligent Ultrasound's vision to make ultrasound simpler to use and easier to learn. The new generation of NeedleTrainer™ encompasses a GE Healthcare Vscan™ Air providing an all-in-one training solution for any medical education program teaching ultrasound-guided needling, enabling centers to adapt to new curriculum requirements on learning these skills without impacting clinical hours or patient safety.
Quantitative Metrics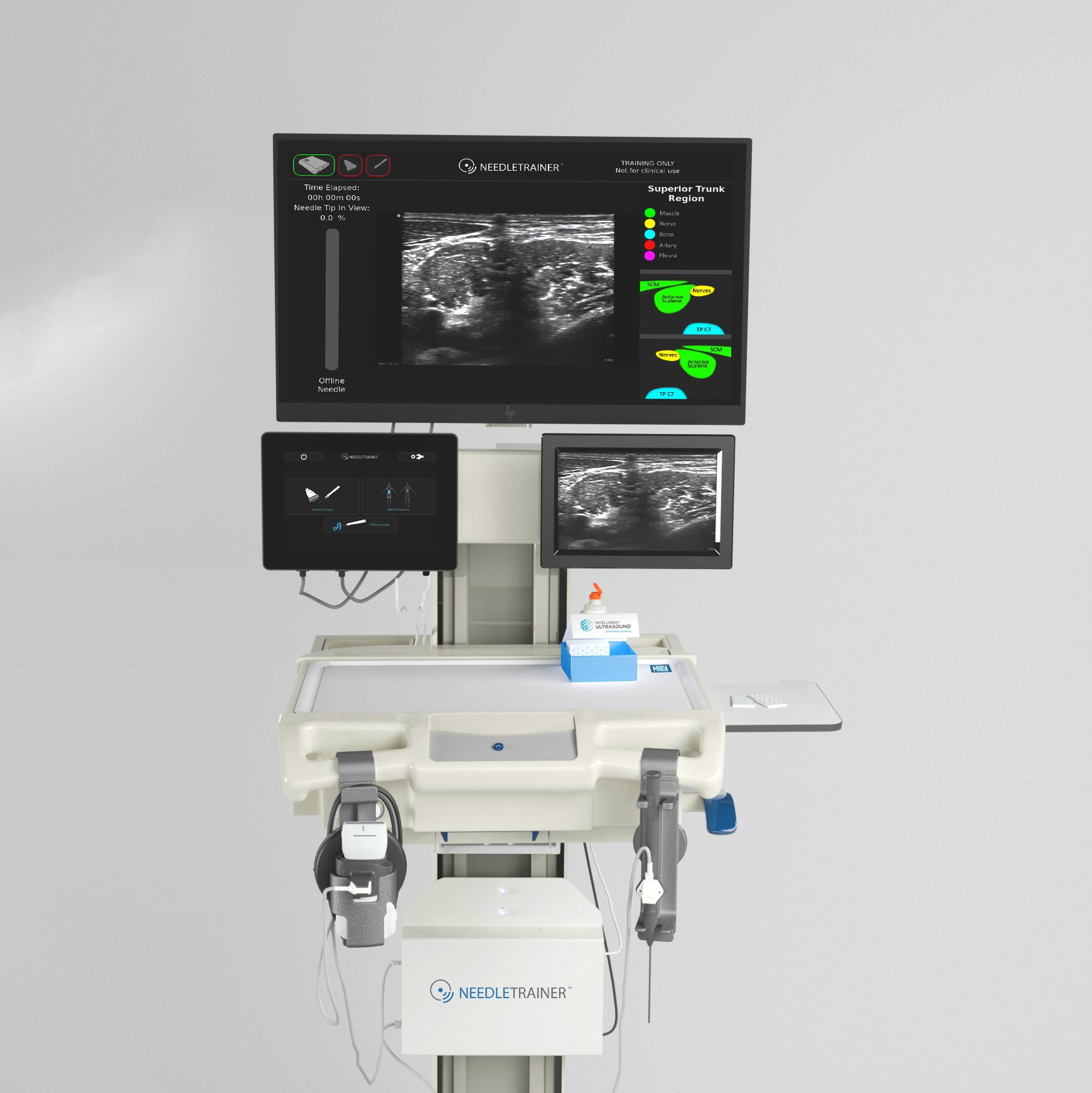 Metrics for proficiency of needle probe co-ordination
Needle visualization measurements provide objective quantitative metrics for needle probe alignment, to aid assessment in proficiency and competence of needle probe coordination:
Time elapsed (s)
Tip in view (%)
Flexible and Versatile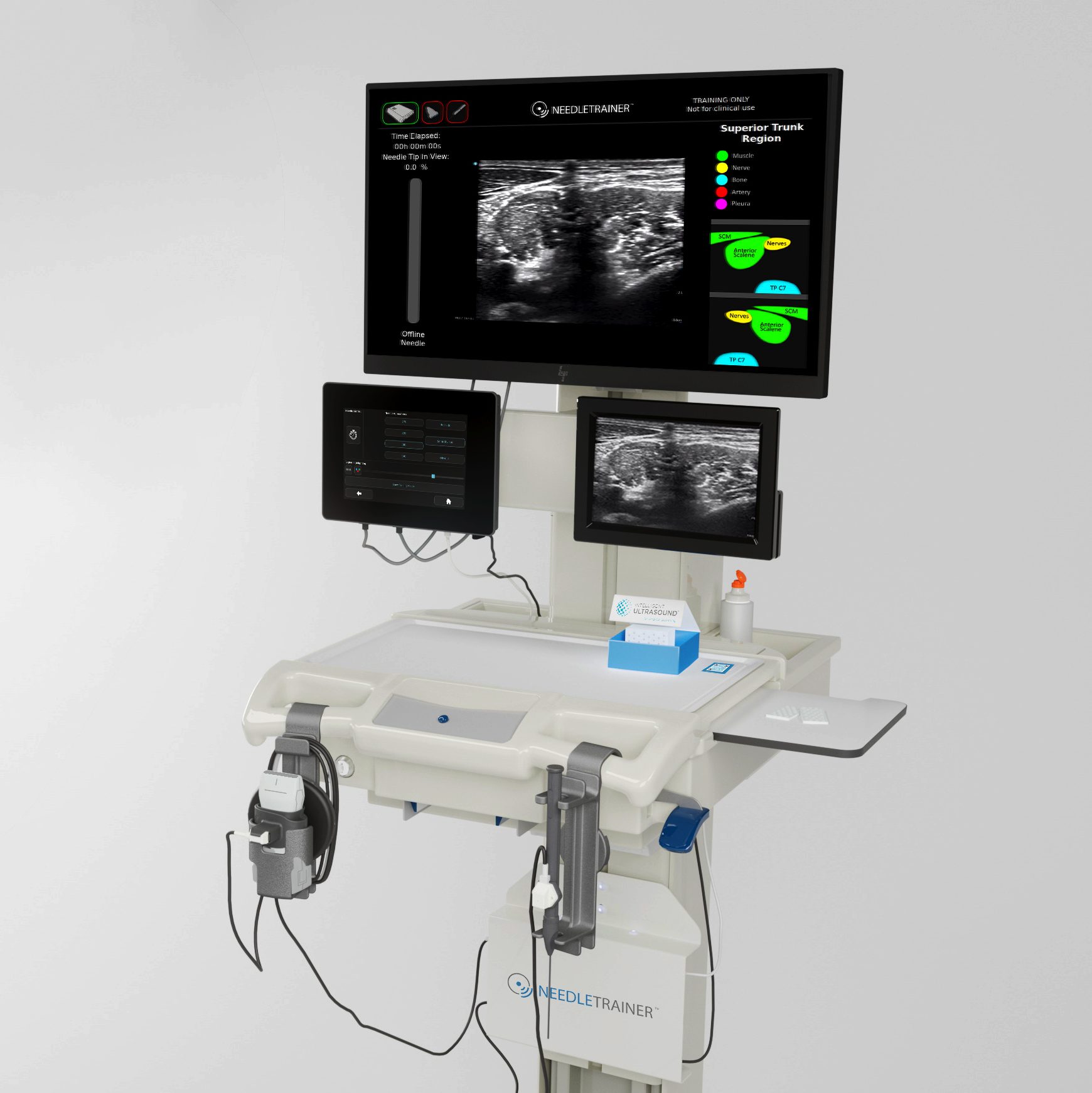 Tailor needle specifications to your procedure
Allows customization of the virtual needle simulation according to the procedure & specialty requirements:
Echogenicity: Obvious, Semi-obvious, Realistic
Gauge: 14G, 18G, 22G and 27G
Adaptive Learning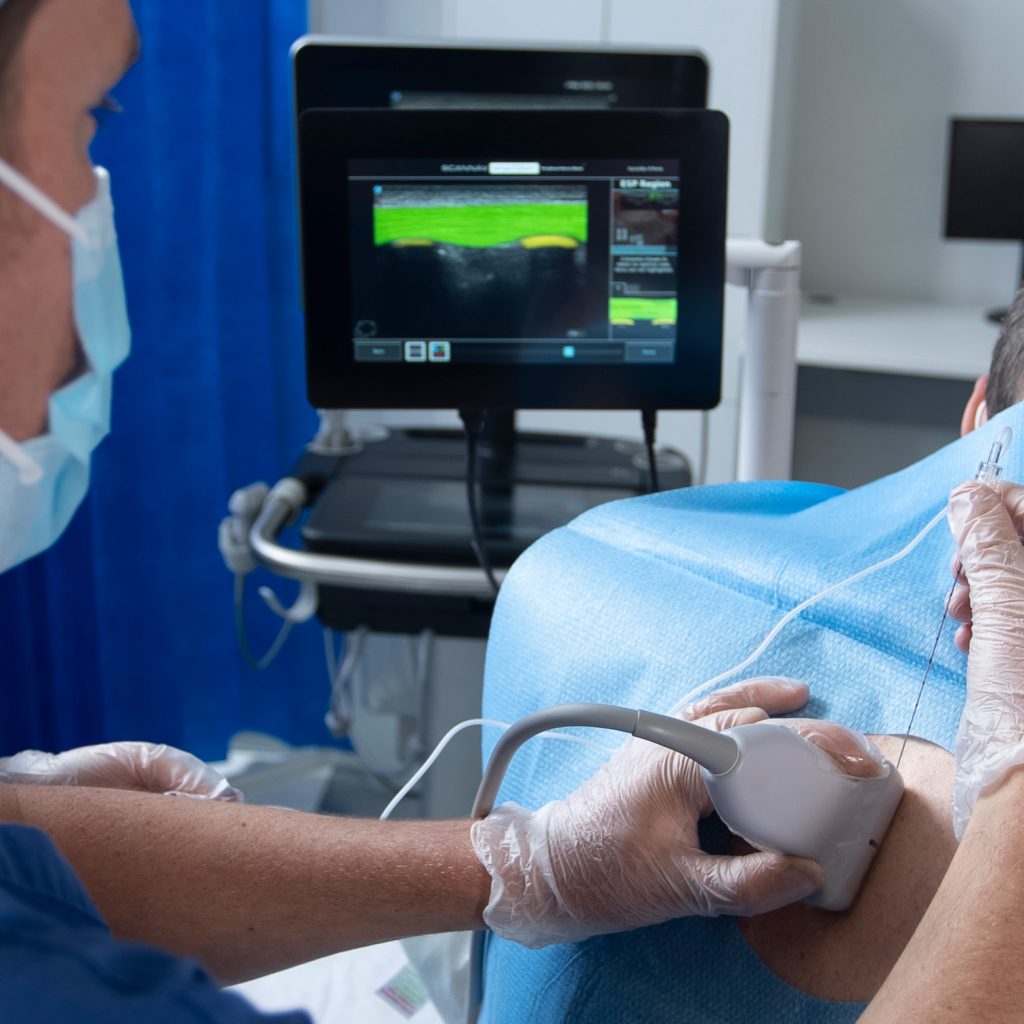 Complete learning pathway for regional anesthesia
Extend learning to include image interpretation along with needle-probe coordination, with the full classroom-to-clinic learning package*, specifically designed for regional anesthesia.
*The classroom-to-clinic package includes NeedleTrainer plus, with anatomy highlighting of 10 peripheral nerve blocks, and ScanNav Anatomy PNB.
---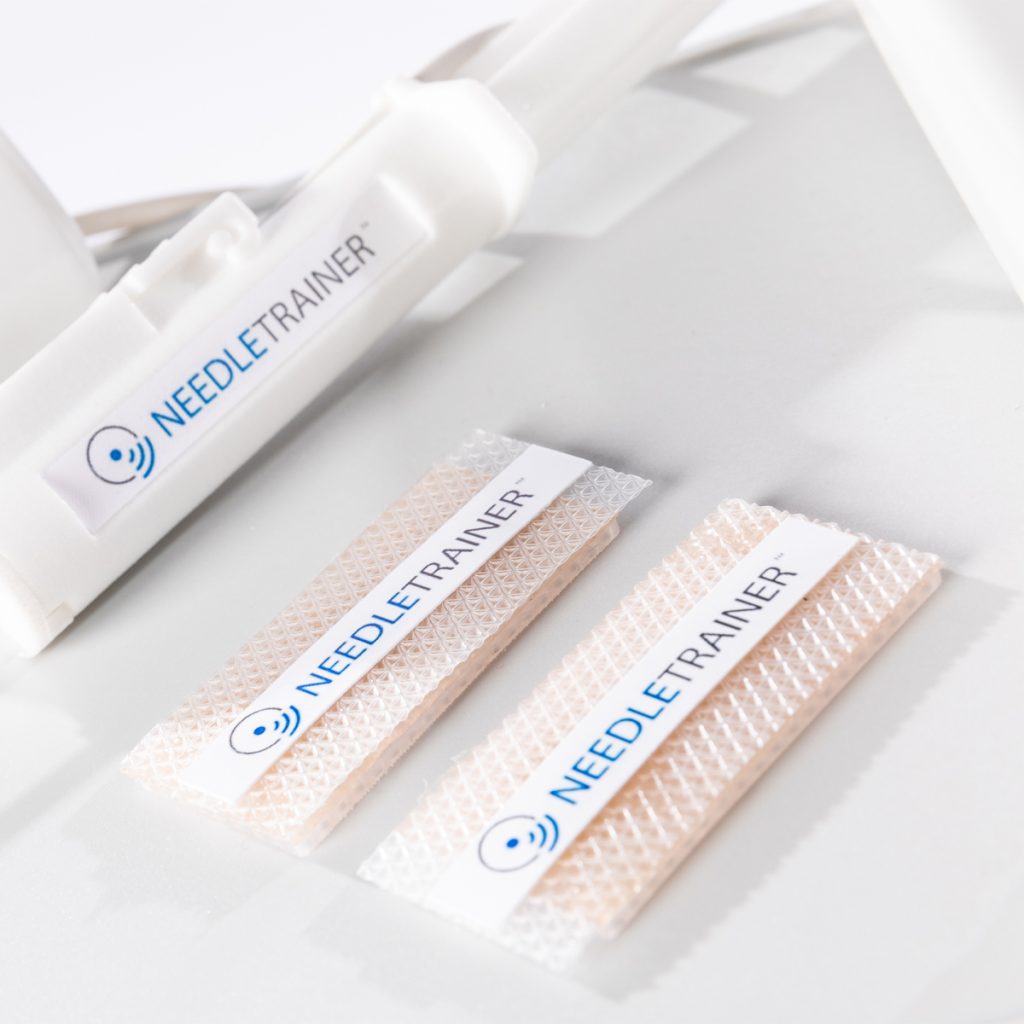 Order replacement needling patches
NeedleTrainer uses self-adhesive patches to enable simulated needle insertion on a live subject. Replacement patches can be ordered online in boxes of 100 or 50.
---
More products: