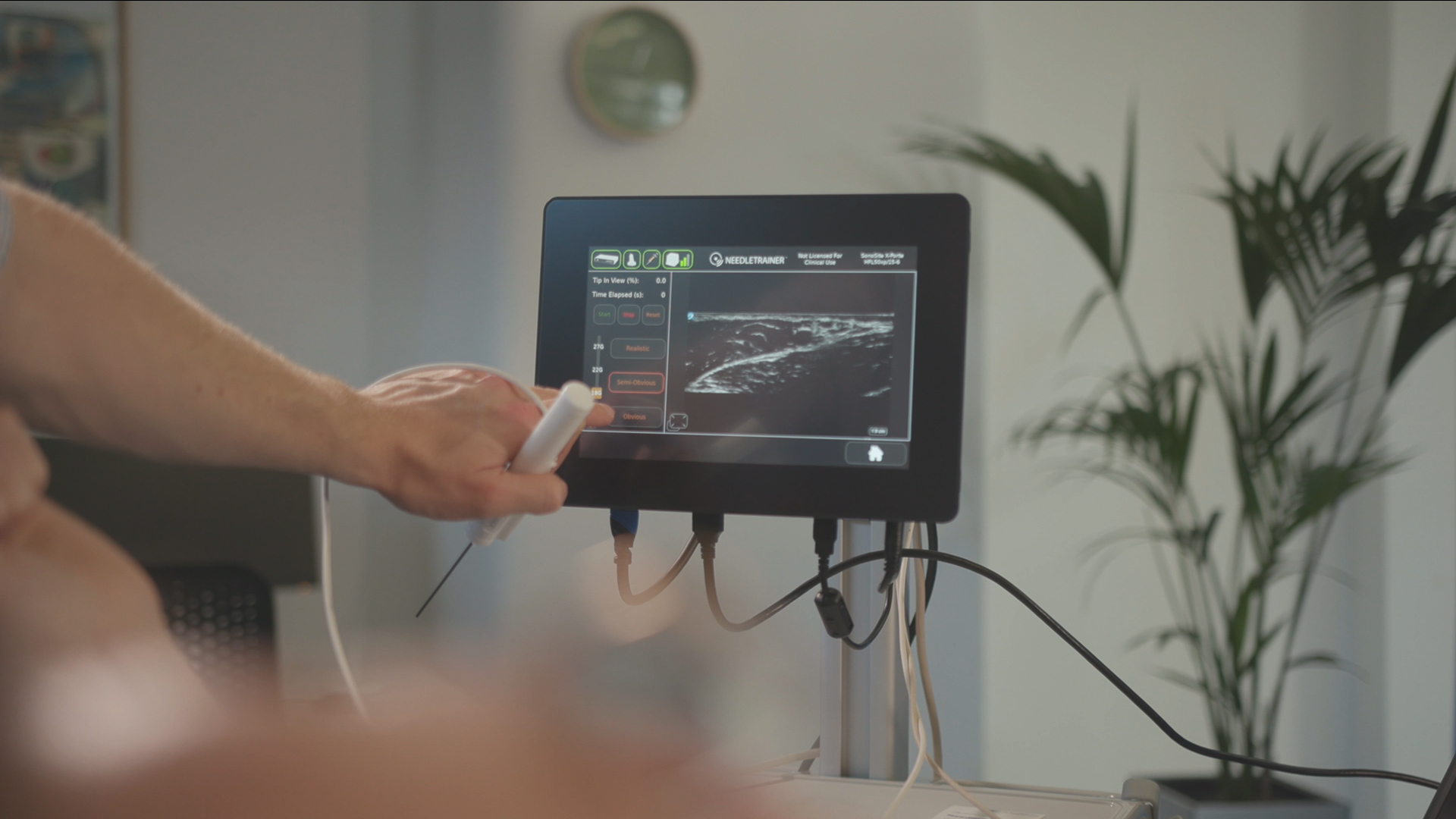 HEIW Invests in NeedleTrainer to Drive Curriculum Changes and Learning Safely
Health Education and Improvement Wales (HEIW) has invested in Intelligent Ultrasound's (IU) NeedleTrainer. The platform was selected to help drive curriculum changes and provide more learning opportunities for trainees, safely.
A special Health Authority within NHS Wales, HEIW's responsibilities include postgraduate training of all junior doctors in Wales. Following a significant change to the Royal College of Anaesthetists' national training curriculum in August 2021, HEIW and the Welsh School of Anaesthesia has moved to address the increased emphasis placed on ultrasound-guided regional anaesthesia (UGRA).
This requirement for UGRA training has increased after training opportunities have been severely restricted over the last two years due to the pandemic and is now a core learning outcome for training.
UGRA is a practical skill which can broadly be split into two parts; acquiring and interpreting an optimal ultrasound image of the relevant sono-anatomy, followed by needle-probe manipulation to maintain visualisation of the needle tip on the ultrasound image as it is advanced to the target where local anaesthetic is deposited.
The first skill can be learnt by performing ultrasound scanning on subjects at courses or local teaching sessions, to identify the anatomy needed in clinical practice. This skill, though more difficult to acquire, is easy to practice in an entirely safe and non-invasive manner. The second skill could not be practiced so easily. However, learning this skill prior to performing needle insertion or an injection on a real patient in a clinical setting has important safety implications.
Dr Sarah Harries, Head of School for Anaesthesia and HEIW Associate Dean, commented "While training and early clinical practice remained safe, as the trainee was always closely supervised, there were risks of needle misplacement leading to nerve damage, pneumothorax, or vascular puncture. We needed a learning solution that would allow trainees to practice and develop this skill prior to injecting a real patient, minimising risks." 
A number of options were considered including the use of cadaveric facilities and phantom models. However, these were limited in scope and fidelity, were expensive and did not provide widespread opportunity for learners across Wales to practise.
NeedleTrainer was selected as it was considered "the most realistic simulated training available". The only commercially available device which uses augmented reality technology to simulate needle placement on real-time ultrasound, NeedleTrainer provides a spring tipped mock needle which can be pressed onto the skin of a volunteer whilst they are being scanned with an ultrasound machine. The software then superimposes the virtual needle on to the ultrasound image, allowing the learner to practice moving both the needle and probe independently, and advancing the needle safely towards a target.
Sarah continued "NeedleTrainer is a simulation device that inexperienced trainees can use to develop the essential needle-probe co-ordination required to ensure needle tip visualisation and safe clinical practice. Using human models allows trainees to learn about how to position the patient, and practice on different sides of the body, as well as different bodies, which all appear different under ultrasound."
HEIW's investment in NeedleTrainer will allow them to roll out a consistent teaching programme, which meets the 2021 curriculum key learning objectives, to over 260 anaesthetic trainees across 12 hospitals in Wales.
Sarah concluded "NeedleTrainer will allow students to practice in a highly supervised environment, with no risk, before moving to a patient-facing environment and then independent practice. The platform will allow us to ensure all Welsh trainees have equitable access to consistent expert regional anaesthesia teaching, which meets curriculum requirements."
For more information on NeedleTrainer click here.