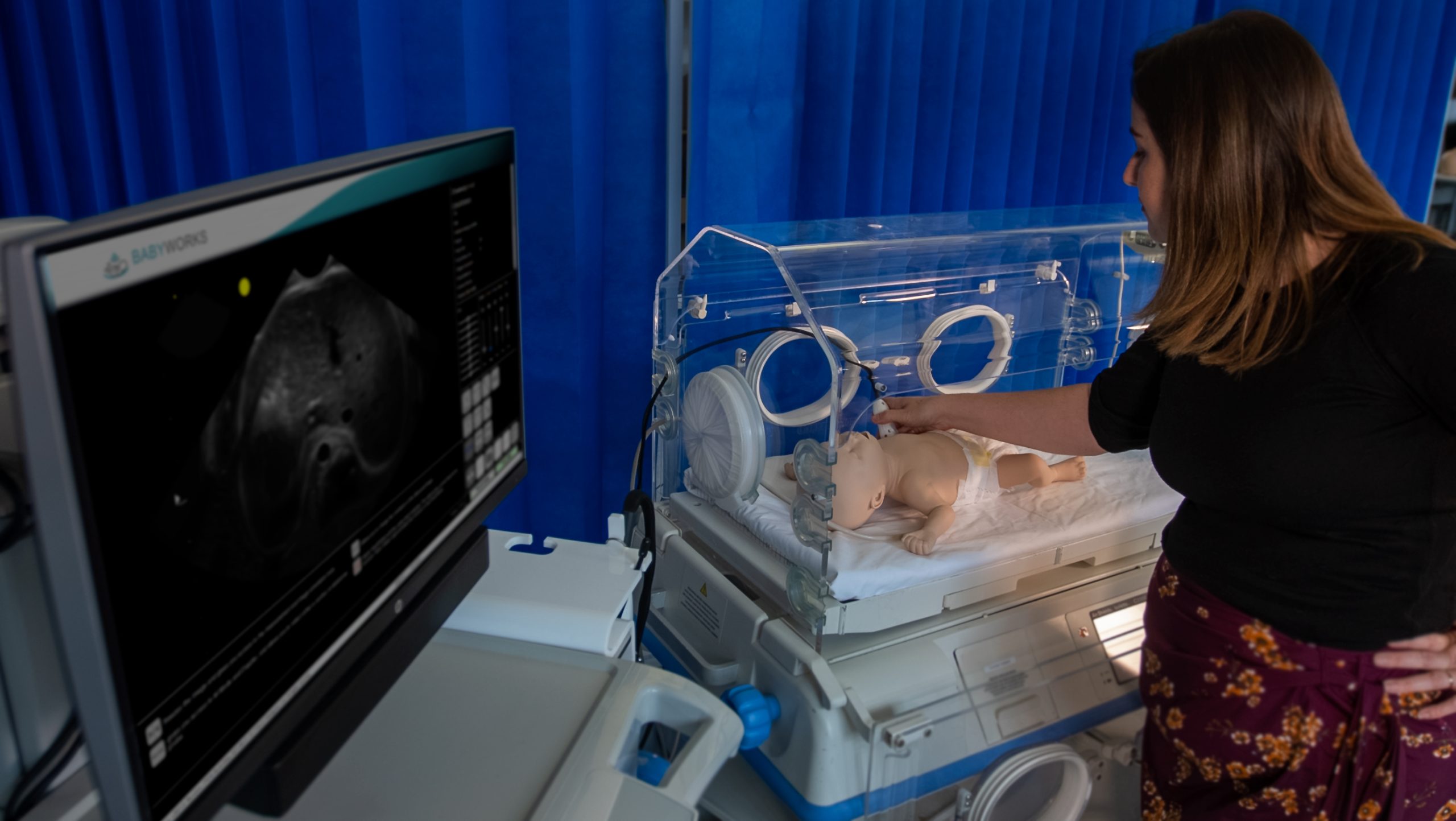 UNMC expands its clinical simulation program into infant ultrasound, with BabyWorks
The University of Nebraska Medical Center (UNMC) has invested in the BabyWorks ultrasound simulator, to expand its clinical simulation program into bedside ultrasound for infants. BabyWorks will provide the center with a realistic, risk-free training tool to practise probe manipulation on an infant, and access to train on infant pathologies not otherwise available.
Samantha Rogers, CHSOS, the manager of iEXCEL Clinical Simulation Program at UNMC, shared that the program already has BodyWorks and HeartWorks simulators, used in medical training programs from emergency medicine to anesthesia residency, and it made sense to take the next step in their learning center with the addition of BabyWorks.
"We specialize in hands-on learning and simulation education. We have a large simulation center and ultrasound has become a huge focus. When we were introduced to BabyWorks, it really made sense to take the next step and be one of the early adopters of ultrasound for infants since we have such an ultrasound-focused facility." Samantha Rogers, CHSOS
Dr. Jared T. Marx, the ultrasound director for the emergency department and fellowship director for Advanced Emergency Medicine Ultrasound, explained that without a simulator, training on bedside ultrasound involves either training on actual patients or standardized patients (specialists trained to portray patient scenarios). However, this poses obvious challenges for infant cases and access to pathologies are limited.
"I think it's the same thing when investing in any simulator, you can't create pathologies that aren't well represented without advanced simulators. Getting people trained to see and recognize that pathology is important so that when it comes to clinical care, they're prepared for it." Dr. Jared T. Marx
BabyWorks is an accurate baby manikin offering a safe and effective training tool for Point-of-Care Ultrasound (PoCUS) and Echocardiography. Accurate, palpable landmarks and real patient ultrasound scans provide a high fidelity, accurate scanning experience in a risk-free, training environment.
Ms Rogers added that the new simulator has generated interest from a wide range of departments that use the simulation center. "I have had several NICU (neonatal intensive care unit) physicians come over and work on babyworks. We've even had some family meds start to come through to use ultrasound and babyworks and then also Pediatrics."
"Our anesthesia faculty and residents, they really like to come over and independently practice on heartworks, so we have some looking to do that for babyworks now as well." Samantha Rogers, CHSOS
Find out more about the ultra-realistic BabyWorks infant ultrasound simulator:
Hi-fidelity ultrasound simulators for Point-of-Care Ultrasound (PoCUS), Transesophageal and Transthoracic Echocardiography (TTE & TEE) in pediatric and neonatal care.