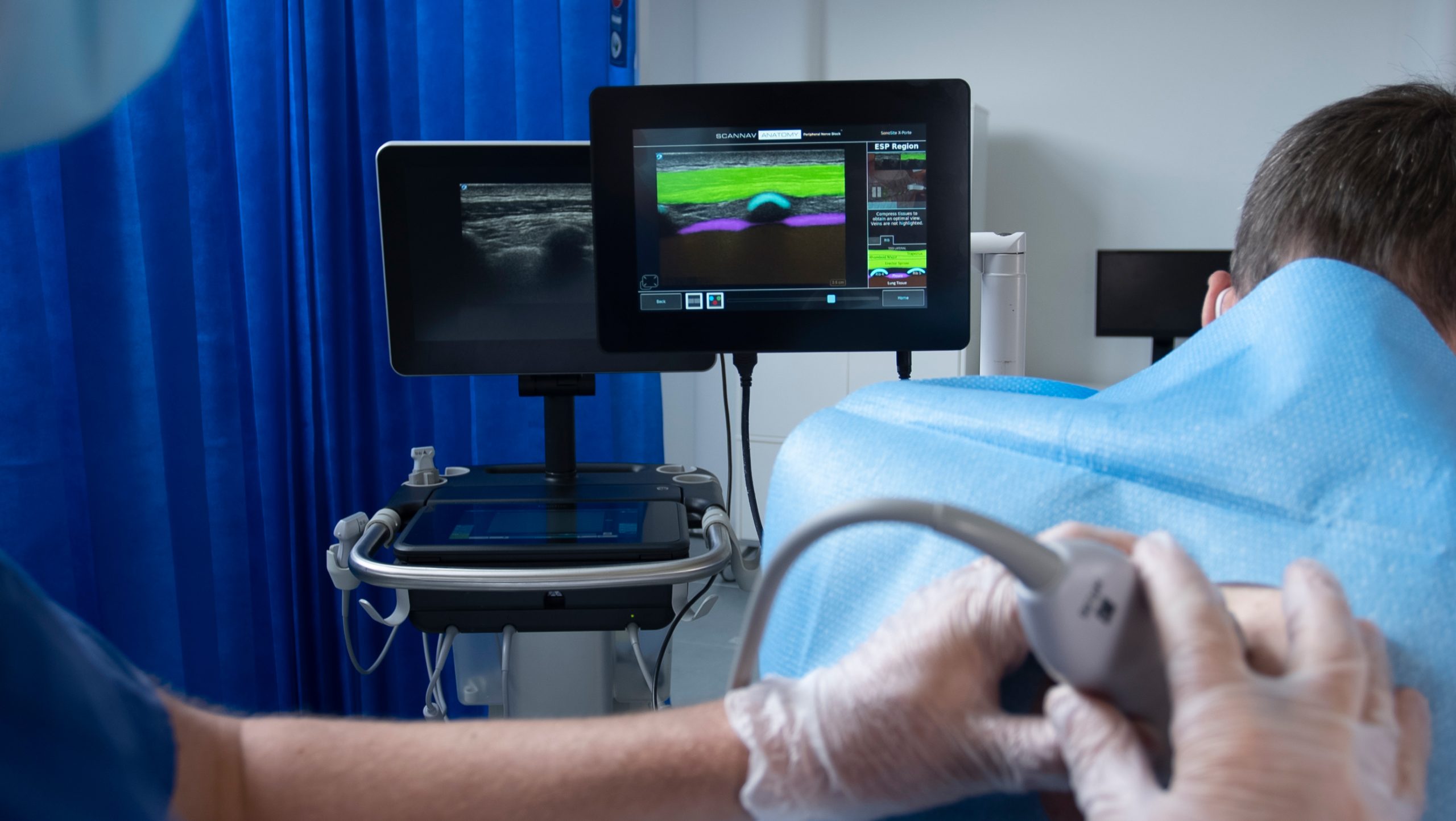 Intelligent Ultrasound Expands Functionality and Availability of ScanNav Anatomy PNB
20th October 2022, Cardiff, UK: Intelligent Ultrasound (IU) today announced that it has added even more functionality to its ScanNav Anatomy Peripheral Nerve Block (PNB) platform and widened its availability to support regional anesthesia in mainland Europe and the USA.
Designed to help qualified healthcare professionals perform ultrasound-guided regional anesthesia safely, ScanNav Anatomy PNB enhances the accuracy and standardization of ultrasound image interpretation. Developed with leading experts in anesthesiology, ScanNav Anatomy PNB uses next-generation AI algorithms to highlight structures relevant to regional anesthesia during a live ultrasound scan. 3D reference material provides an overview of the relevant anatomy, probe positioning and demonstrates virtual scanning for the selected anatomical region.
First launched into market in 2021, IU has added even more functionality for users and is now launching the solution into new countries.
With the addition of the new femoral block, ScanNav Anatomy PNB now supports anatomy highlighting for 10* vital regions relevant to ultrasound-guided regional anesthesia, including all seven 'Plan A' blocks endorsed by RA-UK [Turbitt et al., 2020] – making the platform even more comprehensive.
From an availability perspective, ScanNav Anatomy PNB has been available to regional anesthesia institutions in the United Kingdom since its initial launch and has already gained traction with teaching hospitals, including the University College London Hospital (UCLH), who have invested in the platform to increase training opportunities and confidence.
Recent publications, including one published by the British Journal of Anaesthesia in August 2022, support the growth in interest around the use of AI for ultrasound image interpretation in regional anesthesia and the platform, showing that 'Highlighting by ScanNav in this study was perceived to reduce block failure in 81.2% of scans (according to subjective expert opinion)'.
ScanNav Anatomy PNB is a licensed medical device in the UK and Europe. Post-pandemic and having further strengthened its network of in-country resellers, IU is formally launching the platform into mainland Europe this month so that more regional anesthesia professionals can embrace the solution via the company's in-country partners.
And it doesn't stop there. Hot off the press, IU has received De Novo grant from the US Food & Drug Administration (FDA) for clinical use of ScanNav Anatomy PNB in the USA. The company intends to launch the system to the US market through its existing in-house sales resources based in Alpharetta, Georgia.
The future looks bright for ScanNav Anatomy PNB, IU and regional anesthesia. To learn more about ScanNav Anatomy PNB, click below.
*The number of regions may vary between jurisdictions. Please contact your IU representative for accurate information.
AI-based real-time highlighting of anatomy for anesthetists carrying out peripheral nerve blocks.