Policlinico San Donato Selects BabyWorks to Establish Reference Centre for Pediatric Cardiac Surgery
Policlinico San Donato has selected Intelligent Ultrasound's BabyWorks to realize its goal of becoming a renowned reference center for pediatric cardiac surgery and cardiology. The Italian Policlinic's vision of increasing learning opportunities in the NICU and PICU will go beyond local students, educating young doctors from developing countries and across Europe also.
Voted one of the world's best hospitals by Newsweek in 2022, Policlinico San Donato, based in Milan, is one of the largest and most renowned Italian centers specializing in the field of cardiovascular treatments. It is also home to Dr Alessandro Frigiola, Co-Director of Cardiac Surgery and Head of Pediatric Cardiac Surgery and Congenital Heart Disease in Adults.
When interviewing Dr Frigiola, his vision was clear – to look for the best way to expand training opportunities for junior doctors and to establish Policlinico San Donato as a reference training center in pediatric cardiac surgery for developing countries.
Expanding training opportunities for junior doctors
Like most schools, in the past, the hospital was dependent on teaching junior doctors on live infants, with their parent's consent. This limited training opportunities however, as only one to two junior doctors were able to attend at the bedside. Parents also became distressed, as their infants did, when the patient was being examined with a probe.
The Policlinic needed a solution that would enable an unlimited number of doctors to practice repeatedly for an unlimited amount of time, in a non-invasive manner, but in an as true-to-life setting as possible.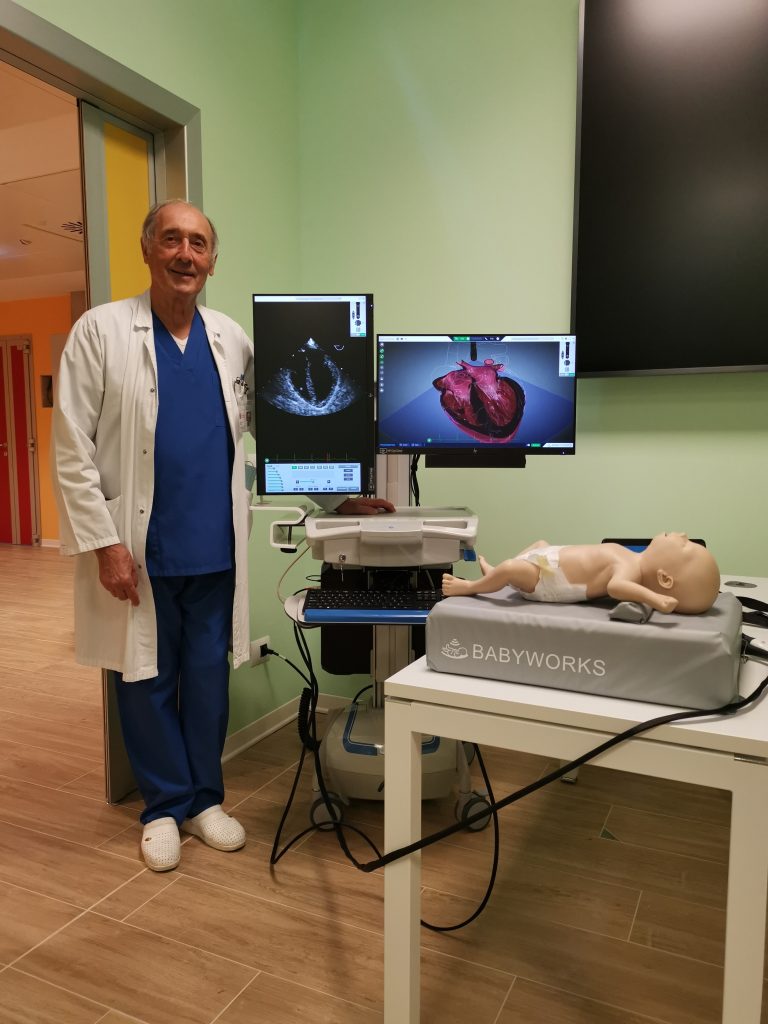 Increasing opportunities for doctors in developing countries
In relation to the goal of increasing opportunities for younger doctors in developing countries, Dr Frigiola explained that learning opportunities were even less. In addition to the challenges of learning on live patients at the bedside, young doctors based in developing countries don't have the technology or opportunity to travel to the United States or to Australia – there is limited opportunity to train in their own countries.
The Dr explained "I asked myself – how can you help these young colleagues in developing countries to train and gain experience? The answer was to open a school of pediatric cardiac surgery and cardiology. But how can we train pediatric echocardiography if it's difficult to perform on live patients or we don't have consent from the parent to do this?"
Dr Frigiola continued "We needed a simulator – we found BabyWorks and our local partner Simulkare. I quickly realized that BabyWorks could be a fantastic way to train inexperienced junior doctors in NICU echocardiography. The system can perform the echo examination like in a normal echocardiography laboratory. Instead of a live patient, we have a manikin with good quality skin and good quality simulation for echo projection for temporal and long axial views. I took the decision to invest in the platform."
The solution – BabyWorks
Using BabyWorks the Policlinico will be able to train 10-20 doctors at once and they will be able to examine and practice on the mannikin as many times as they need to become more confident and competent.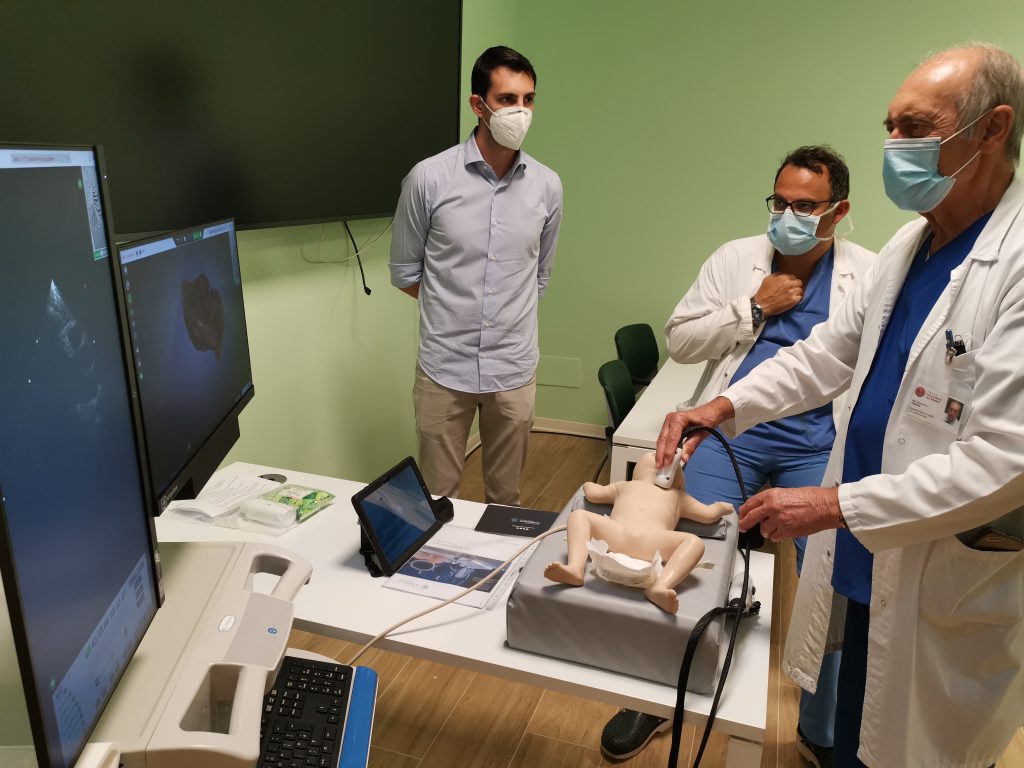 Initially, the platform will help train junior doctors in the basic application, using simulated cases where a normal heart is present. In the future, its Dr Frigiola's goal to use the platform for advanced teaching, where there is complex congenital malformation.
The Dr commented "We will partner with Intelligent Ultrasound to develop BabyWorks to further expand the pathologies we need to meet our advanced training needs."
The basic course, which will commence in October 2022, will attract junior doctors from developing countries including Eastern Europe and North Africa. It is expected that the advanced course will see doctors visiting from Spain, mainland Europe and India.
Dr Frigiola concluded "We are at the beginning of a new era – the use of technology in pediatric medicine. When I saw BabyWorks, I was convinced that this was the way forward. We want to be the first hospital to realize the full potential of the simulator. We are at the start of a journey, working together with Intelligent Ultrasound, we can continually develop and enhance the solution to deliver our vision."
Hi-fidelity ultrasound simulators for Point-of-Care Ultrasound (PoCUS), Transesophageal and Transthoracic Echocardiography (TTE & TEE) in pediatric and neonatal care.