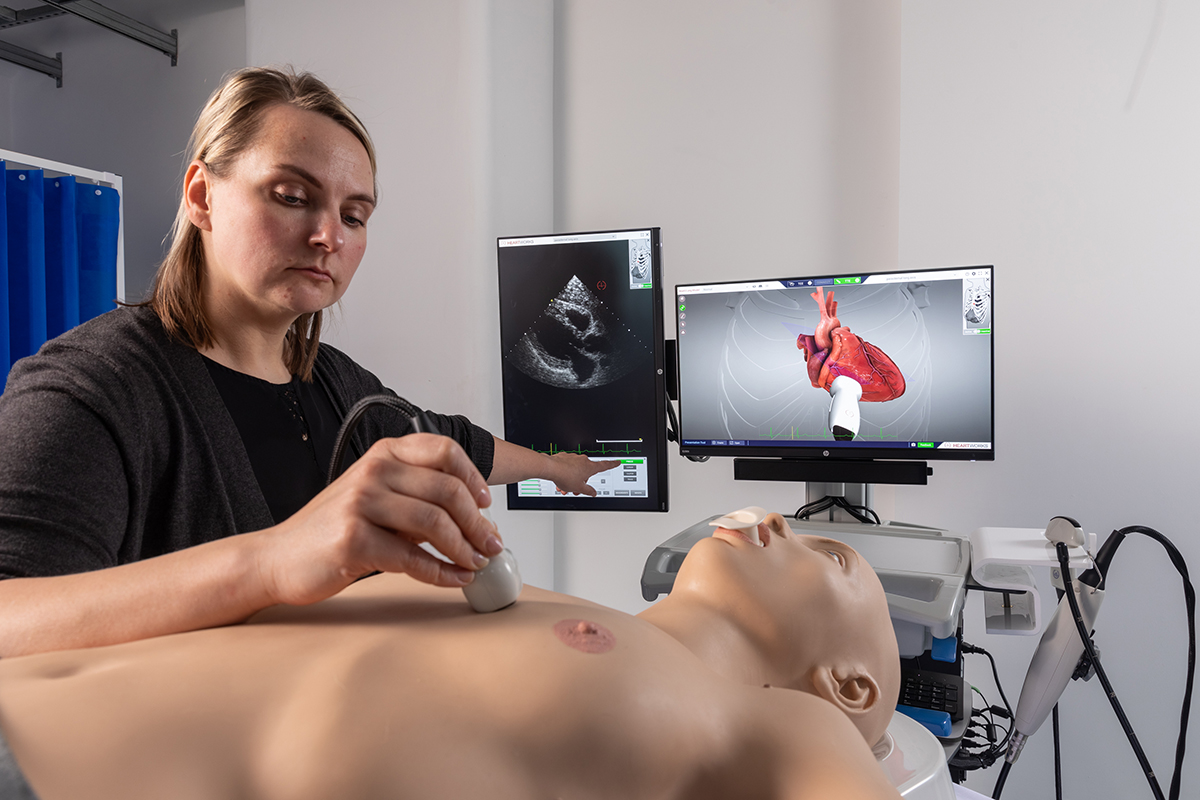 Intelligent Ultrasound supports BSE to continue accreditation
Since 2020, Intelligent Ultrasound has been supporting the British Society of Echocardiography (BSE) to run transthoracic echocardiography (TTE) practical assessments safely throughout Covid-19 protection measures, with the HeartWorks simulator. BSE are the primary providers of accreditation for specialists working in echocardiography in the UK. The majority of echocardiographers in the UK have been through the BSE accreditation programme.
With a limited workforce of echocardiographers and an increase in demand for echocardiography, stopping the assessments during the pandemic was simply not an option. Over 400 trainees have been accredited throughout this arrangement, without which TTE practical assessments would not have been possible.
"We had a workforce crisis before the pandemic. We had a lot of trainees coming through and, at the same time, the biggest demand we've ever had for echo. It created a perfect storm with the workforce under immense pressure." Jo Sopala, CEO, BSE
BSE Chief Executive Officer Jo Sopala explained that while many organizations were shutting down or reducing services in response to Covid-19 protection measures, BSE looked for ways to continue accreditation in a covid-safe manner. "I think the pandemic has certainly taught me that you have to be flexible and adaptable. Whatever happens, we can deal with it."
In response to the pandemic, BSE moved the written theory exams online and arranged for logbooks to be submitted and marked in advance. They then looked for a safe way to run the practical echo exams whilst reducing the amount of people on-site and allowing for social distancing. "We said "how can we do this?" rather than just saying we can't do it." explained Jo. Prior to 2020, TTE practical assessments were run 4 times per year, where healthy volunteers would be scanned by trainees to assess their competence. However, in order to limit transmission of Covid-19, bringing healthy volunteers into a hospital setting was not possible during the pandemic.
In 2020, BSE approached Michael Harwood, UK Sales Manager at Intelligent Ultrasound to support the March TTE accreditation day. With the day a success, Intelligent Ultrasound formally agreed to continue to support BSE with HeartWorks simulators, to enable TTE assessments to continue throughout the pandemic.
"The fact that Intelligent Ultrasound acted as partners to support us throughout this process has made a significant difference. I just can't tell you how grateful we are, and how grateful our members are, because it meant that we could continue that accreditation process" commented Jo Sopala, CEO, BSE. "Also, huge thanks to Michael, who has been on-site to support us during every assessment day. He's been a really special friend to the BSE."
In total, 429 candidates successfully gained accreditation between March 2020 and 2023 when Covid-19 protection measures were fully lifted. "I genuinely don't believe there was a way of us offering the practical assessments without this support." Jo Sopala, CEO, BSE
"Being able to support the candidates through a proper assessment process in a hospital setting made all the difference. And we could only do that with the help Intelligent Ultrasound provided. We have over 4700 members, and this helped 429 of them to get their accreditation through that time. So nearly 10% of our members came through a process that was completely and utterly facilitated by the support provided by Intelligent Ultrasound."
"We've learned a lot through the pandemic. Some of it was forced learning, but we need to retain all the good things that we've achieved through this because there have been some brilliant initiatives. More use of simulators in the appropriate ways and wider recognition of their value has been a really valuable side effect" explained Jo. "Predominantly trainees within the NHS have their training in a clinical setting and collect their logbook cases. For TTE accreditation they will need to collect 250 cases across different pathologies. That doesn't mean that they're seeing 250 patients, they have to scan a lot of patients to see all of that pathology, and it's likely to take 12 to 24 months to collect those cases. If they're using the simulator in their early training, they can learn to recognise the pathologies that they might come across day by day."
"I think there is a clear role for simulators in the early part of people's training, getting used to holding a probe and how you need to acquire views. The wider availability of simulators to all early trainees will be superb and will make a real difference."…"Overall, I'm incredibly grateful that this technology exists, and this whole process has shown us just how important it is to have this kind of equipment available to us."
Learn more about HeartWorks:
Hi-fidelity ultrasound simulators for Transesophageal and Transthoracic Echocardiography (TTE & TEE).