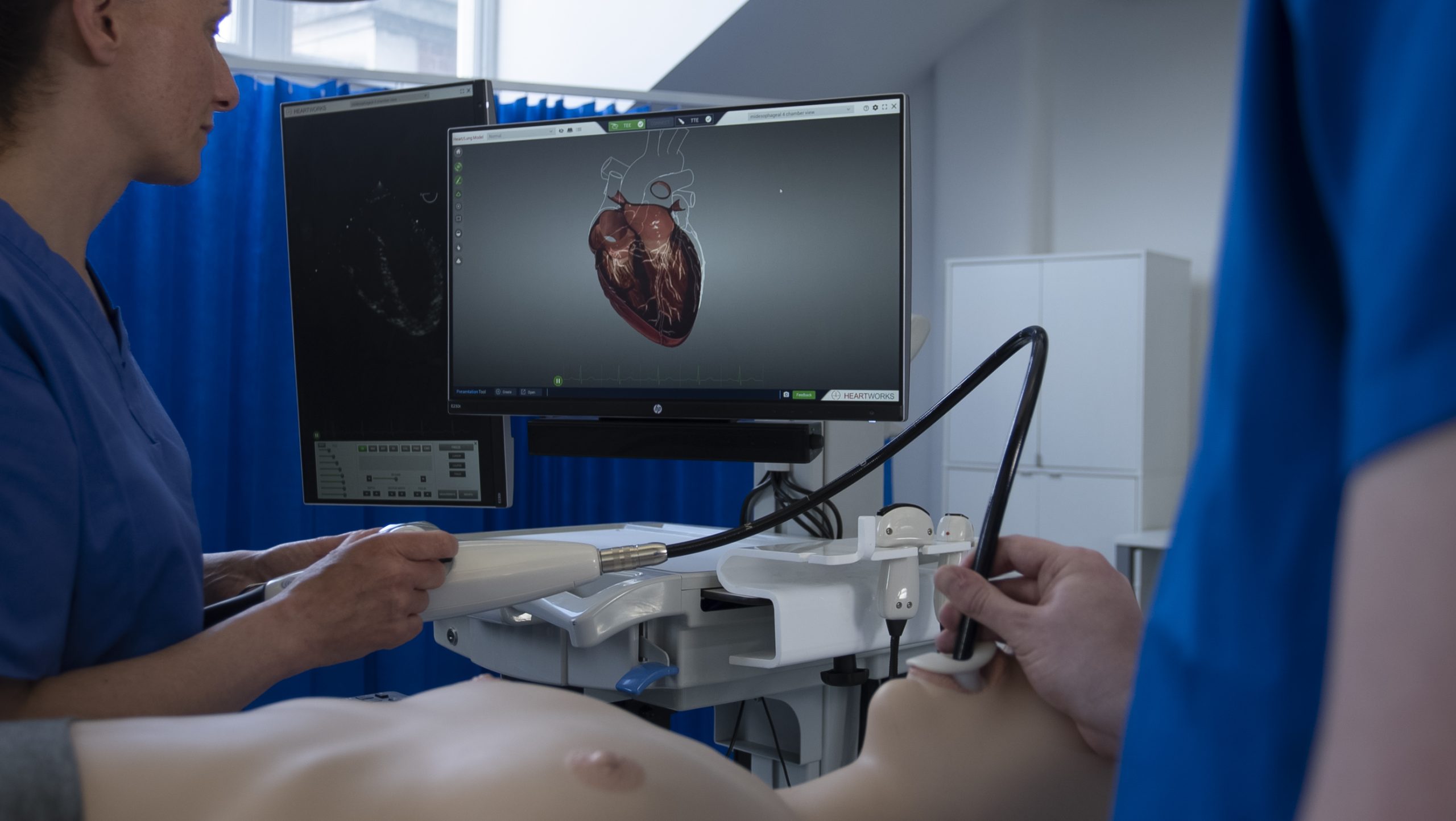 Birmingham Children's Hospital use HeartWorks to expand learning opportunities
Birmingham children's hospital have developed a training program specifically for paediatric echocardiography trainees, using the HeartWorks simulator to expand learning opportunities and relieve the strain of training with a potentially difficult patient population. It is hoped that the program can be expanded in the future to help train specialist paediatric echocardiographers nationwide.
Birmingham children's hospital is a leading UK specialist paediatric centre, offering expert care to more than 90,000 children and young people from across the country every year. Part of the heart investigations unit, the echocardiography team adapted the nationally endorsed training program to teach paediatric echocardiography; and bridge the gap between accreditation in adult and paediatric scanning.
"Being a paediatric centre, we often don't have access to UK-based training opportunities" explained Gemma Priest, Head of Echo Services. "The current national training programs are adult based and don't cover any paediatric cardiology. Trainees would have to go to other centres to get experience, and the result is that we struggle to retain staff because we have no way of training them against a paediatric syllabus."
When Health Education England (HEE) rolled out the national Echocardiography Training Program (ETP) using the HeartWorks simulator they still couldn't reliably use the program to train in paediatric echocardiography as, although the course was specific to echocardiography, it was still designed around an adult patient population.
"The endpoint assessment of the ETP is the BSE (British Society of Echocardiography) exam, patients must be over 16 and have adult conditions or acquired disease such as ischaemic heart disease or degenerative valve disease, which children don't have. So that automatically excluded us because 80% of our patients are under 16. So again, how are we going to grow our workforce?" Gemma Priest, Head of Echo Services, Birmingham Children's Hospital
In 2022, the team successfully bid for one of the HeartWorks simulators purchased by HEE, as part of the ETP rollout. Gemma explained how access to the HeartWorks system enabled them to develop a tailor-made echo training program for paediatrics.
"When scanning children, if they don't want to do it, you've just got to get what images you can. If it's a really bad day, a trainee can find that they have a whole day in echo and don't even touch the probe, and that slows them down in their progress. When we found out we were getting the simulator, it meant that we would be able to teach in a more controlled fashion. We knew this would open a new world for us, to be able to run echo training programs that we've tailor made, and allow us to make sure that those trainees always have access to echo".Gemma Priest, Head of Echo Services, Birmingham Children's Hospital
Jade Hobday, the previous head of echo, adapted the national ETP program to suit a paediatric syllabus using European Association of Cardiovascular Imaging (EACVI) assessment more suited to a paediatric patient population. The result is an echo training program, matched to the ETP, designed to provide sonographers confident in both paediatric and adult echocardiography.
"We needed a program that would allow us to recruit at a grassroots level and build trainees up to be a paediatric sonographer, but also so that if they wanted to move to adults, they could do so." Explained Gemma, "As a Trust, it is important to us that we participate in increasing the numbers of echocardiographers and physiologists in the Midlands region. This is a key way to improve access to services and patient care within the region."
The use of the simulator has expanded learning opportunities, providing a safe, realistic avenue for trainees to learn probe manipulation skills, heart anatomy, and typical ultrasound views.
"Using the simulator, you've always got the opportunity to teach, even if you haven't got the patients there. You also can't really talk much over the patient, but with the simulator we make it look like a real situation, and we can spend the time talking about the anatomy and how it relates to what you see on the screen for example. It also means you can do more group teaching. You can't have a group of people stand around a patient, but you could have three or four people, registrars for example, stood around the simulator." Gemma Priest, Head of Echo Services, Birmingham Children's Hospital
It is hoped the paediatric echo training program at Birmingham children's hospital can be used as a pilot, to show specialist children's hospitals how to adapt nationally accredited programs on adult echocardiography into a paediatric syllabus. The centre now plans to expand to hold educational courses and training days on paediatric echocardiography using the simulator.
Hi-fidelity ultrasound simulators for Transesophageal and Transthoracic Echocardiography (TTE & TEE).