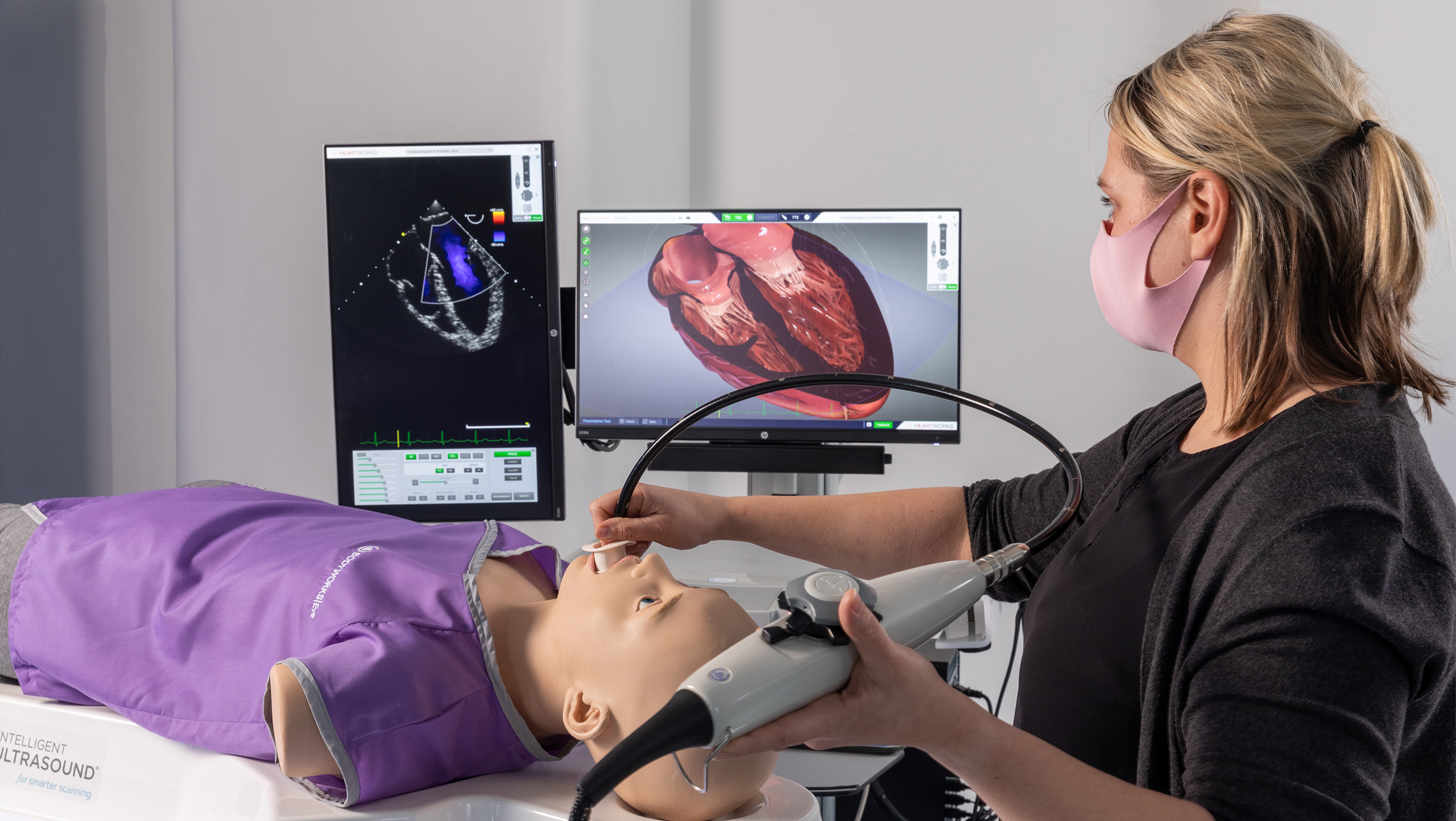 Health Education England (HEE) are elevating the national standard of training in Echocardiography, with HeartWorks.
Health Education England has invested in twenty-three combined HeartWorks–BodyWorks systems to standardize training in ultrasound and echocardiography for healthcare scientists across NHS England.
Part of Health Education England (HEE), the National School of Healthcare Science has overall responsibility for the educational framework for healthcare scientists, across more than 40 specialties in NHS England. When Jane Lynch joined HEE, they faced a workforce gap in diagnostics, including echocardiography, on a national level. In addition, with departments understaffed many lacked the capacity to provide the training needed.
"One of the big issues that we have when trying to train healthcare scientists is training capacity. The departments are all short-staffed, and although they are keen to take on trainees to increase their staffing levels, they struggle to train all the people we are asking to the right level." Jane Lynch, Scientist Training Programme Director
The National School of Healthcare Science set up a new Echocardiography Training Programme designed to fast-track competence and elevate the standard of training in echocardiography. With a background as a clinical scientist in echocardiography, Jane was keen to integrate simulation into the training program and purchased two HeartWorks simulators for the pilot in 2020.
"Because training capacity is the limiting factor, simulators were a good source of kick-starting that early training, so they were considered an important part of the echo training program. I'd worked with HeartWorks and BodyWorks before so I was aware of what they could do and I tried looking at everything else that was on the market, but nothing provided the same quality and interaction that the [BodyWorks] Eve simulator did." Jane Lynch, Scientist Training Programme Director
Following a successful pilot across two sites, the team made plans to roll the program out nationally. However, this highlighted a disparity with varying levels of training between sites and some trainees not having access to simulation. In addition, once the covid pandemic arose, many trainees struggled to get in-clinic training due to the restrictions on movements and face-to-face contact throughout the pandemic.
"In most regions that I work in, there are areas that have established centers that have good training, and there are lots of other centers that would love to provide that same training but just don't have the backup or the ability to take time out of their normal working day to provide training. This is about leveling everybody up and trying to get everybody to a better standard, and it's about bringing those departments that previously couldn't train into the fold so that they can." Jane Lynch, Scientist Training Programme Director
HEE purchased an additional twenty-three combined HeartWorks-BodyWorks systems so that all regions had access to simulation training. The program also employed training coordinators for each area to provide some training away from the clinic, relieving the pressure on the clinical team and increasing training capacity.
Intelligent Ultrasound worked with the HEE team, helping to create a bespoke package to meet their needs. Each system order was managed on a case-by-case basis, arranging installation and training with the onsite teams individually, while coordinating centrally with HEE. With expressions of interest increasing, the program now plans to expand even further by increasing the number of places offered.
Get in touch to discuss your bespoke learning pathway.
Hi-fidelity ultrasound simulators for Transesophageal and Transthoracic Echocardiography (TTE & TEE).