Following CE approval earlier this month, we are pleased to announce ScanNav Anatomy Peripheral Nerve Block ("ScanNav PNB") has been successfully registered with the MHRA for sale in the UK. We will officially be introducing ScanNav PNB into the UK market at the forthcoming RA-UK Annual Scientific Meeting.
Dr David Burckett-St.Laurent and Dr James Bowness will be hosting a virtual demonstration of ScanNav PNB at the Regional Anaesthesia UK (RA-UK) Annual Scientific Meeting on 5th May 2021. RA-UK is the UK specialist society for anaesthetists interested in the field of regional anaesthesia.
ScanNav PNB uses the latest AI technology to automatically highlight the live ultrasound image to enhance the accuracy and standardisation of ultrasound image interpretation, by making it easier to identify key anatomical structures. This supports the performance of healthcare professionals who are suitably qualified but who perform ultrasound-guided procedures on a less frequent basis.
ScanNav PNB supports nine high-value peripheral nerve blocks (a form of local anaesthesia) and will be sold as a stand-alone device, with in-built AI software, that can be plugged into existing anaesthesiology ultrasound machines. The device will provide clinicians with continuous feedback by real-time highlighting of their live ultrasound scan. Users can also re-familiarise themselves with blocks that they carry out less frequently by using the system's integrated 3D animations.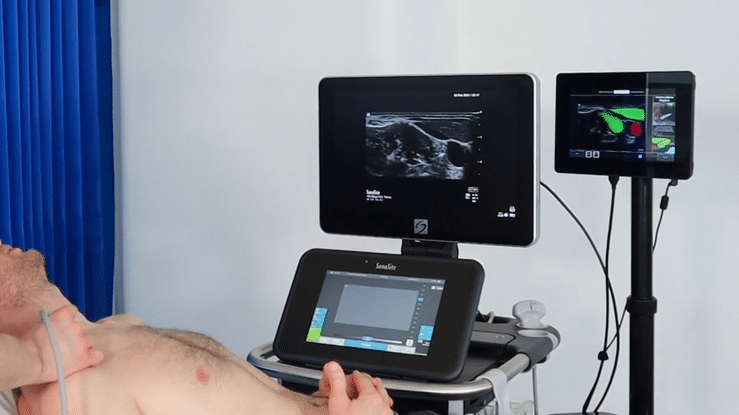 Increasingly, ultrasound-guided peripheral nerve blocks are being used as a prudent alternative to general anaesthesia, but not all anaesthetists have the specialist knowledge of ultrasound anatomy to perform them. Through the adoption of ScanNav PNB, it is hoped that hospitals will be able to increase the number of ultrasound-guided nerve blocks that they can perform.
The product is configured to work in conjunction with third party ultrasound machines and will be sold as a touchscreen system on a mobile cart. The Company continues to progress its regulatory filing with the FDA to enable a version of the product to be sold in the US, as well as seeking to licence an integrated version of the product to major ultrasound manufacturers.
Lead clinician and consultant anaesthetist, Dr David Burckett-St.Laurent, said: "We look forward to showcasing ScanNav PNB at RA-UK, Sheffield. Based on RA-UK's Plan A blocks, it is our aim that ScanNav PNB will tip the balance of safety and confidence in the aspiring regional anaesthetist through translating anatomical knowledge to sonoanatomy recognition."