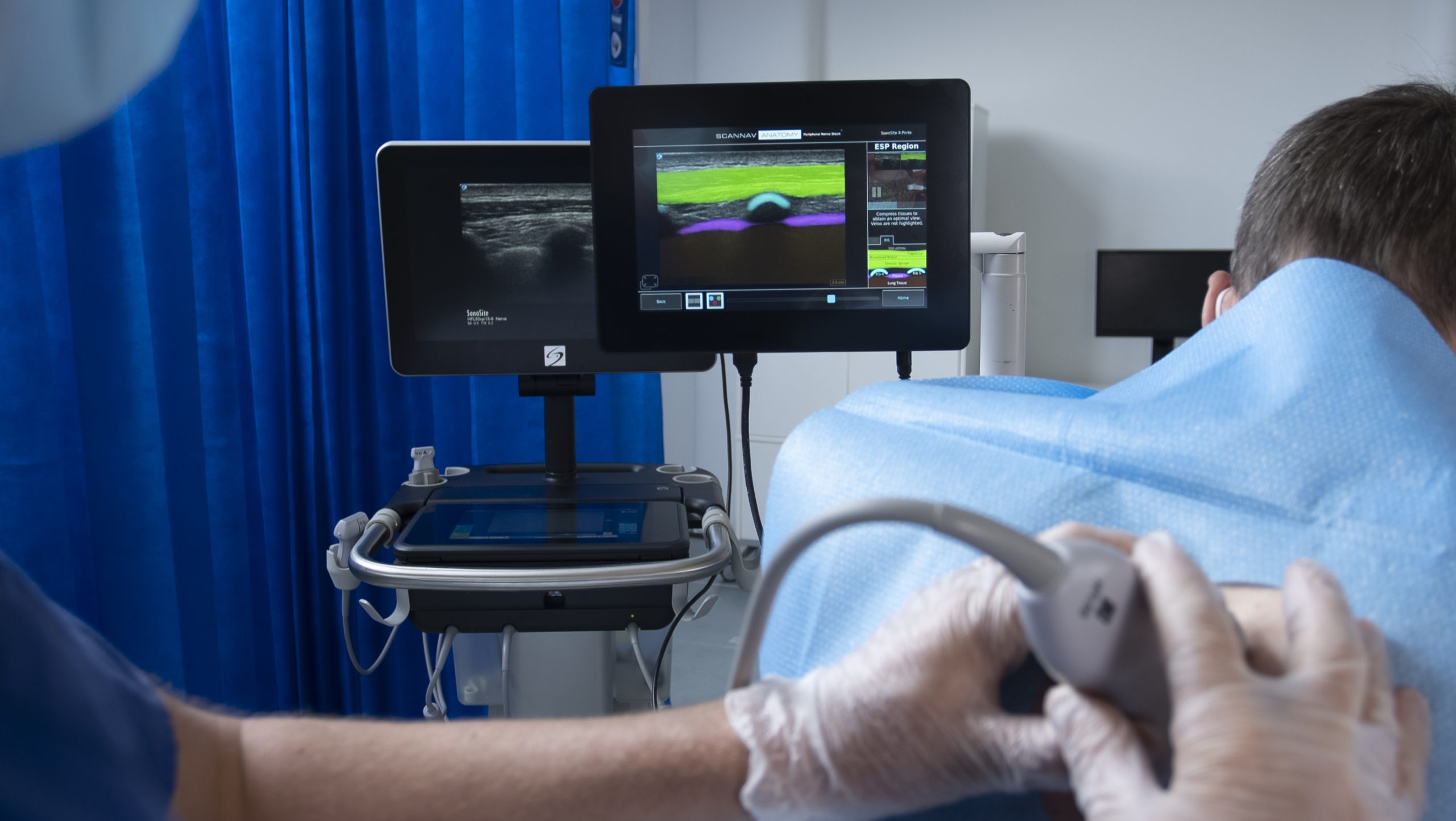 Intelligent Ultrasound's ScanNav™ Anatomy Peripheral Nerve Block Shown to Increase the Delivery of Ultrasound-guided Regional Anesthesia
PRESS RELEASE 7th September 2023: Intelligent Ultrasound Group plc (AIM: IUG), the 'classroom to clinic' ultrasound company specialising in artificial intelligence (AI) software and simulation, announces data to show that availability of ScanNav™ Anatomy PNB is associated with an increase in the number of blocks performed by anesthesiologists, without a decrease in quality of care, according to a study in the British Journal of Anaesthesia.

The study examined the use of an AI scanning device, ScanNav™ Anatomy Peripheral Nerve Block, which produces a colour overlay on real-time ultrasound to support ultrasound scanning for UGRA. The study involved a comparative analysis of data gathered during a service evaluation, conducted over two consecutive four-week periods. Standard clinical practice was observed during the initial four-week period. Subsequently, relevant training was provided on use of the device, before it was made available for anesthetists caring for trauma patients in the theatre suite – the same process of observation was conducted in the following four week period. The data show a statistically significant increase in the number of UGRA procedures carried out when the device was available, compared to the prior four week period (71 blocks among 207 eligible cases vs. 93 blocks among 193 cases, p = 0.036).

This work also assessed the perspectives of patients, anesthetists, and theatre recovery staff, finding no statistically significant differences in outcome between blocks performed with or without the device. These findings suggest that the introduction of this new technology can enhance the delivery of UGRA for analgesia in trauma patients without compromising patient or clinical outcomes.
Stuart Gall, CEO of Intelligent Ultrasound, commented:
"These results are a testament to the potential of our ScanNav™ Anatomy Peripheral Nerve Block to develop clinical practice in regional anesthesia (RA) and support enhanced patient access to the benefits of these techniques. This furthers our aim of democratising access to ultrasound-based healthcare solutions and enhancing patient care worldwide."
Data from this study will be discussed further at the World Congress of Regional Anesthesia in Paris, France, 6-9 September 2023, where Intelligent Ultrasound will be supporting workshops and talks throughout the event, highlighted below: 
Dr James Bowness talking on "Artificial Intelligence in Regional Anesthesia" and Dr David Burckett-St Laurent on "Simulation for Regional Anesthesia" on Thursday 7th September, in the "Technology in Regional Anesthesia Education" session
Artificial Intelligence Networking Session & Industrial Symposium on Friday 8 September, 15:30 – 17:30, including a talk "Can AI Unblock Regional Anesthesia?" by Nicolas Sleep (Chief Operating Officer, Intelligent Ultrasound, UK)
Intelligent Ultrasound's ScanNav™ Anatomy Peripheral Nerve Block supports ultrasound scanning and the identification of key anatomical structures for certain "high value" UGRA procedures. This aids anesthetists who are proficient in these techniques, but lack confidence or experience. Several peer-reviewed manuscripts have already been published, detailing the device's accuracy and potential utility in clinical practice, further validating its significance in the field of regional anesthesia.