ScanNav Anatomy uses the latest AI technology to automatically highlight the live ultrasound image and make it easier to identify key anatomical structures. It supports the performance of healthcare professionals who are suitably qualified, but who perform ultrasound-guided procedures on a less frequent basis. It also enhances the accuracy and standardisation of ultrasound image interpretation by making it easier to identify key anatomical structures.
ScanNav Anatomy Peripheral Nerve Block
Ultrasound-guided peripheral nerve blocks are increasingly being used as a prudent alternative to general anesthesia, but not all anesthetists have the specialist knowledge of ultrasound anatomy to perform them.
Available in the UK as a stand-alone device mounted on a portable cart that can be plugged into existing anesthesiology ultrasound machines, ScanNav Anatomy Peripheral Nerve Block ("ScanNav PNB") supports nine common peripheral nerve blocks. Clinicians get continuous feedback from real-time highlighting of key anatomical structures relevant to the block on their live ultrasound. The system's integrated reference material, including 3D animations relating the ultrasound view to the underlying anatomy, allows users to re-familiarize themselves with blocks that they carry out less frequently.
Through the adoption of ScanNav PNB, it is hoped that hospitals will be able to increase the number of ultrasound-guided nerve blocks that they can perform.
Supported Peripheral Nerve Block Procedures:
Interscalene, Superior Trunk, Supraclavicular, Axillary, Erector Spinae Plane, Rectus Sheath, Suprainguinal Fascia Iliaca, Adductor Canal / Sub-sartorial femoral triangle and Popliteal.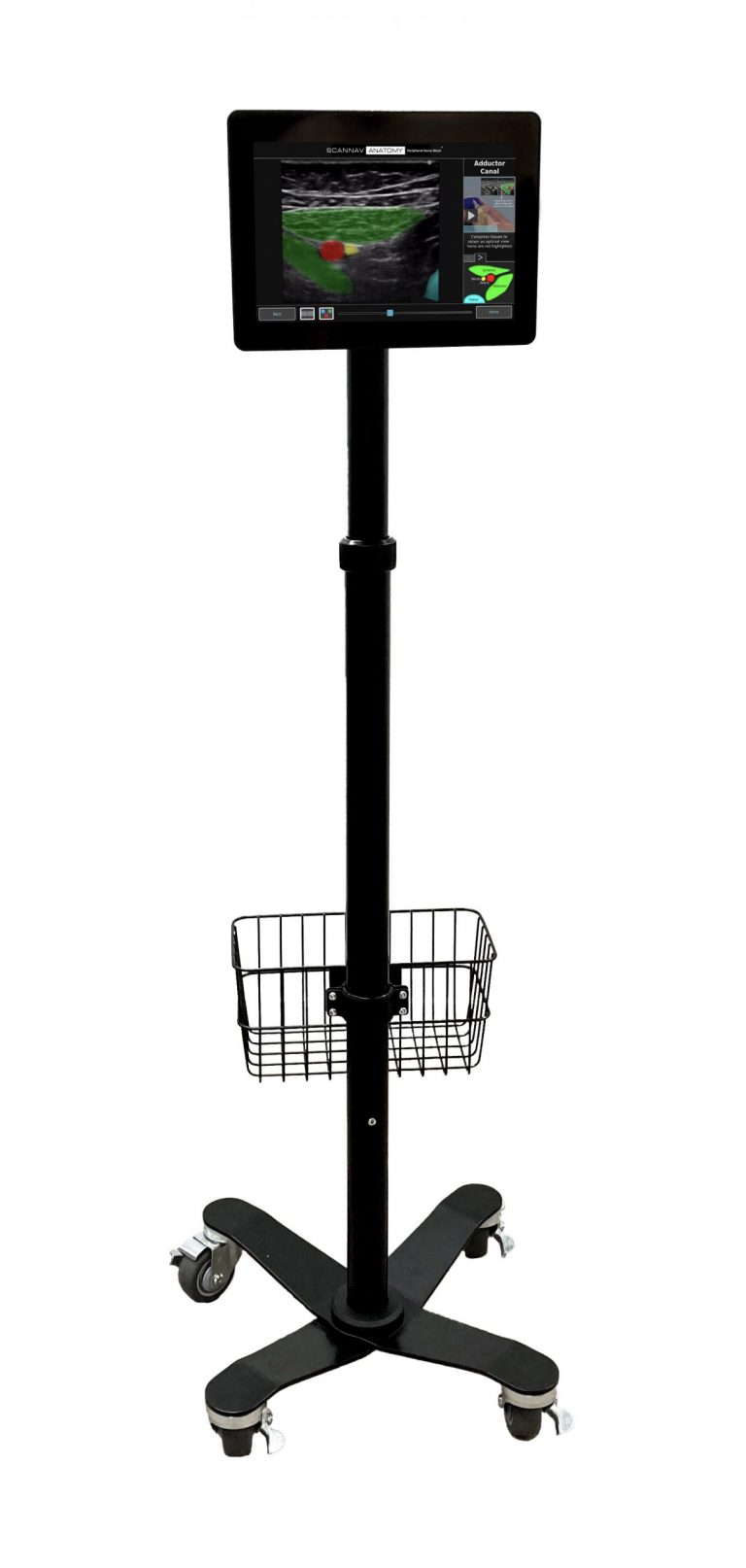 Currently only available to buy in the UK. Outside the UK and Europe, this material should be considered informational only and does not constitute an offer to sell or infer claims or benefits. ScanNav Anatomy has been submitted for FDA regulatory approval and as such is not available for sale in the US or any other territory requiring government approval for this type of product.
Clinical papers for reference
1. Bowness J, El-Boghdadly K, Burckett-St Laurent D. Artificial intelligence for image interpretation in ultrasound-guided regional anaesthesia. Anaesthesia. 2020 Jul 29. doi: 10.1111/anae.15212. Epub ahead of print. PMID: 32726498.
2. Turbitt LR, Mariano ER, El-Boghdadly K. Future directions in regional anaesthesia: not just for the cognoscenti. Anaesthesia. 2020 Mar;75(3):293-297. doi: 10.1111/anae.14768. Epub 2019 Jul 3. PMID: 31268173.
3. Bowness J, Varsou O, Turbitt L, Burckett-St Laurent D. (2021). Identifying anatomical structures on ultrasound: assistive artificial intelligence in ultrasound-guided regional anesthesia. Clinical Anatomy, 1–8. https://doi.org/10.1002/ca.23742